IPL Photo Rejuvenation
Conveniently located to serve the areas of Baltimore, Columbia, Ellicott City and Maryland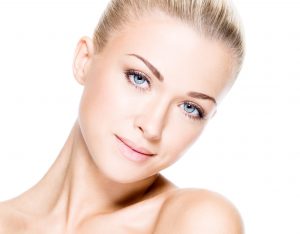 Standing for intense pulsed light, IPL Photo Rejuvenation is a skin treatment that uses focused light energy to improve an array of skin conditions such as redness, sun spots, sun damage, broken capillaries, rosacea, and general face flushing.
Here at Metamorphosis Plastic Surgery, we proudly offer IPL Photo Rejuvenation to any client interested in achieving a refreshed, unblemished countenance. If you are interested in learning more about an IPL treatment or any of our other cosmetic services, please feel free to schedule an initial consultation or call us at (410) 465-3600.
About
Approved by the FDA in 1995,[1] IPL Photo Rejuvenation works by focusing broad wavelength noncoherent light onto areas of the skin where the cells in the skin absorb and distribute the light, breaking up the cells that cause conditions such as sunspots, age spots, and red or brown spots. The light energy dives deep into the dermal layers and flashes out any cells with red or brown pigmentation. Since spider veins, sunspots, age spots, broken capillaries, and rosacea are all red or brown in color the IPL laser can effectively and quickly erase all those spots from your appearance. 
Benefits
With IPL Photo Rejuvenation, you can expect an improved appearance if you have:
Redness or flushed features
Brown spots
Age spots
Sun damage
Mild acne scars
Broken capillaries
There are many reasons to try IPL Photo Rejuvenation! Another being that you can expect to see real results after as little as two sessions.
The IPL device is also extremely versatile when it comes to the number of treatment areas it can hone in on. Those include:
Face
Neck
Chest
Hands
Arms
Legs
Feet
Candidates
Clients who are interested in undergoing a refreshing skin resurfacing treatment like IPL Photo Rejuvenation should know the qualifications necessary to qualify. First, you should be someone with fair to mild skin tone. This is because for darker skin tones the IPL technology can cause permanent loss of pigmentation to the skin, leaving behind discolored patches in the treated areas. Next, a candidate should be able to avoid prolonged UV exposure before and after the treatments because UV light can harm or reduce the results garnered from an IPL Photo Rejuvenation session. Lastly, a candidate should know that for optimal results we recommend 3-4 20 minute sessions. If you feel that you are qualified please feel free to schedule a personal consultation where we can discuss this and many of our other services with you individually!
Personal Consultation in Baltimore
At your personal consultation, we will first go over your recent medical and surgical history. Then, we will open the floor to you. We want to get a good sense of your aesthetic goals and configure a plan to let our services help you achieve those goals. Then, we will examine your target area, noting the texture, color, shape, and size of your red or brown spots. Understanding the characteristics of these areas will help us to elect the right size crystal to use in our IPL device for your session. If the spots are smaller then a tinier crystal will be appropriate and the adverse will be suitable for a bigger target area. Then, before you leave we will schedule a time and date for your first session. We will give you a list or preparatory steps that should be adhered to in between these two meetings.
Preparation
Patients who undergo IPL treatment are asked to avoid self-tanners and prolonged exposure to UV light for 2-4 weeks before your treatment. This is to ensure the skin is at its peak health and hydration on the day of your IPL treatment. We also ask that you discontinue any use of minocycline, tetracycline, doxycycline, or retinol based skin care products several days before each treatment. In between sessions, we ask all our clients to lather on that broad-spectrum sunscreen to keep your results looking incredibly marvelous.
Procedure
During your IPL Photo Rejuvenation session, we will first apply some numbing cream onto your target areas. This will help quell any pain or discomfort that might be felt during the procedure. Next, we will give you some special glasses to wear during this treatment. They will protect your eyes from the harsh light rays that get expelled from the IPL device. Next, we will apply a cooling gel to your target areas. This will help subside the heat from the IPL device and help the transfer of light energy into the epidermis. Then, once the numbing cream and cooling gel have taken effect we will begin the IPL treatment.
Patients who have undergone IPL Photorejuvenation say that it feels like a hot rubber band hitting their skin. Others compare it to a hot stinging feeling. Some say that the pain is slightly worse on the chest as opposed to on the arms. Others say they can barely feel any pain, just the heat from the device. If you do feel some slight discomfort that is totally normal, but please be sure to keep our expert staff informed if the pain crosses a point of being too much or unbearable.
Recovery
After your treatment, the targeted areas may feel like they are sunburned. They may be red and progress in that redness as the day goes on; this is completely normal. Over the next few days, the brown and red spots will darken in color, eventually resembling the shade of coffee grounds. It is important at this time to not pick at these spots – no matter how tempting it might be to pick them like a scab. It is imperative that you leave them alone and let them run their course. Soon, they will fall off like a caterpillar's cocoon, unveiling beautifully radiant skin. In a study where IPL treatments like this one were tested to establish their efficacy, the researchers found that 82% of the patients found the most optimal results one month after their treatment.[2] This is helpful to know for prospective clients because it helps give them a realistic timeline for when to expect satisfactory results. During the first few days after your treatment, you may notice slight redness and swelling, crusting, bruising, and discoloration in the treated areas. This is a good sign in fact because it shows that the skin cells have responded and absorbed the IPL treatment. 
Results
For patients who undergo the recommended 3-4 sessions, you will quickly start to notice what all the rave is about when it comes to IPL Photo Rejuvenation procedures. Those red and brown spots will have disappeared or faded significantly. Your skin has this new smoothness in texture and appearance that makes you look youthful with a more radiant complexion. Many of our patients elect to undergo routine upkeep with annual to semi-annual IPL Photo Rejuvenation procedures to keep that beautiful glow for years to come.
Corresponding & Complementary Procedures
After clients see just how wonderful our services are they keep coming back to try out another one of our many cosmetic treatments. If you are interested in IPL Photo Rejuvenation, then you may also be interested in:
Laser Hair Removal
We all have unwanted hair in certain areas. For some this could be on:
Upper lips
Underarms
Neck
Back
Arms
Legs
Pelvic region
Chest
For those clients, we proudly offer Laser Hair Removal. With this treatment, you can see a permanent solution to getting rid of stubborn, unwanted hair. It works by focusing a single, intense beam of light energy at hair follicles. This laser breaks apart the follicle at the root and neuters it from regrowing in the future. Many clients see a significant reduction in hair density after 1-3 sessions. 
Laser Skin Tightening
For many people, their skin becomes more and more lax the older they get. This is due to the body's decline of naturally made collagen. Collagen is the building block protein that works to keep the skin hydrated and wrinkle-free when we're younger, but as we age our natural collagen significantly reduces, letting wrinkles creep their way onto our countenance. However, with Laser Skin Tightening you can expect an increase in organic collagen production which will in turn erase wrinkles and fine lines from your skin. This works by using radio-frequency (RF) technology on the skin. The RF technology then heats up the deep dermal collagen receptors from hibernation. These then produce a renewed abundance of collagen that works to tighten your skin. Clients have seen a refreshed change to their skin. If you are interested in this procedure or one of our many other services please feel free to contact us to begin the journey to achieving your aesthetic goals!
Cost
The cost for IPL Photo Rejuvenation will vary depending on the size of the treated areas and the number of sessions that are required to achieve optimal results. If you would like to learn more about our pricing please feel free to call us at (410) 465-3600. Also, don't forget to check out our specials page!
References
Goldberg D. J. (2012). Current trends in intense pulsed light. The Journal of clinical and aesthetic dermatology, 5(6), 45–53.
Hedelund L, Due E, Bjerring P, Wulf HC, Haedersdal M. Skin Rejuvenation Using Intense Pulsed Light: A Randomized Controlled Split-Face Trial With Blinded Response Evaluation. Arch Dermatol. 2006;142(8):985–990. doi:10.1001/archderm.142.8.985