Liposuction
Conveniently located to serve the areas of Baltimore, Columbia, Ellicott City and Maryland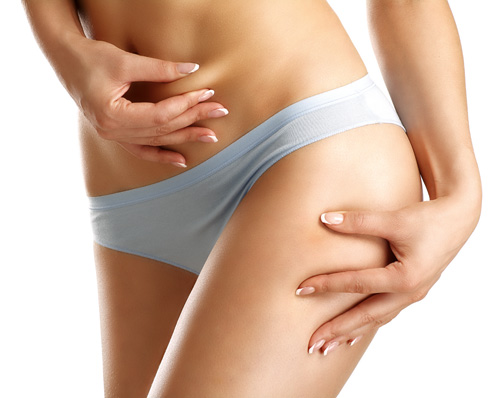 Liposuction is a procedure that removes fat from the body using a tube-like device that loosens and suctions out fat cells from the body permanently. Sculpting pockets of fat nearly anywhere on the body is no problem for liposuction.
Liposuction is commonly performed on the stomach, love handles, hips, arms, thighs, lower back, and chest. The best candidates for this procedure are those who want a slimmer appearance but have areas resistant to diet and exercise. Liposuction is not an alternative to weight loss efforts and helps sculpt, contour, and define the body.
Board-certified plastic surgeon, Dr. Markmann, performs liposuction for men and women in the Baltimore area. Contact Metamorphosis Plastic Surgery today and let us help you attain the body you've always dreamed of!
About Liposuction
If you've been working out but are not experiencing weight loss or slimming of certain areas of your body, it may be time to consider liposuction. Liposuction is a surgical procedure that will remove your stubborn fat and give you a slender and sculpted silhouette. Where your body stores fat depends on many different factors such as genetics and lifestyle.
Dr. Markmann is meticulous and delicate when he performs liposuction, but at the same time removes as much unwanted fat as necessary to contour your body to achieve your desired figure. Whether you are undergoing liposuction to the arms, face, or any other areas of the body, he will strategically approach your procedure to give you the best and most natural results.
Liposuction Treatment Areas
Liposuction can be performed on many areas of the body, including, but not limited to:
Thighs
Abdomen
Love handles
Back/Bra Rolls
Breasts
Arms
Face
Ankles
Buttocks
Knees
More than one area can be treated during the same surgical appointment.
Before and After Photos
Benefits
Liposuction will provide you with the results you've been striving for immediately and results are permanent so long as you maintain a healthy lifestyle! Liposuction is a fast, effective body contouring technique that is easily paired with other cosmetic procedures if you so desire. With Dr. Markmann's skills and expertise, you will be able to show off your new figure with added confidence!
Candidates
Men and women who struggle with stubborn fat or toning certain areas of their body through diet and exercise alone are excellent candidates for liposuction. If you have been working out and not seeing significant improvement, it may be time to consider surgical options.
Liposuction candidates should be at a healthy stable weight, be a non-smoker or able to quit temporarily, and have realistic expectations. This procedure is meant to achieve body contouring that exercise and diet has not provided.
Personal Consultation
During your personal consultation with Dr. Markmann, you will have the opportunity to discuss your concerns with your body and target the areas you would like to be treated. Dr. Markmann will listen carefully and examine the areas of concern. He will ask about your health, medications, allergies, and past procedures to determine if liposuction is a good option for you. With over 25 years of experience, Dr. Markmann's eye for detail and artistry will curate a full surgical plan, giving you the most natural and amazing results.
During the consultation, we encourage you to ask a lot of questions. We want you to leave your meeting with a good understanding of how plastic surgery will improve your appearance. For example:
Do you have liposuction before and after photos I can see?

How long will my procedure take?

When can I return to work?

What is expected of me to ensure a positive outcome?

When can I begin working out again?

Can I drive after the surgery?

What kind of anesthesia options do you offer?
These questions should act as a guideline for your appointment. Please write down your questions and any concerns and bring them with you. Our goal at Metamorphosis Plastic Surgery is to educate our patients and make sure you leave office feeling confident and excited about your results.
If it is decided that you are a good candidate, before you leave, you will schedule your surgery appointment. Dr. Markmann will then inform you on how to prepare for surgery and what steps to take to ensure a smooth and healthy recovery.
Preparation
Prior to your appointment, you will be prescribed medication that will be sent to your preferred pharmacy. Before your surgical appointment, a preoperative visit will be scheduled to discuss your upcoming treatment. Preparation for your surgical and post-care instructions will be discussed at this visit.
Arrange rides

to and from your appointment and make sure someone is able to stay with you for the first twenty-four hours of your recovery. Expect to rest a lot for the first few days following surgery.
Procedure
Liposuction is performed under general anesthesia at an accredited surgery center. The procedure involves the vacuum suction of fat deposits from various areas of the body with a suction-assisted technique. [1] Liposuction can be performed on its own or combined with other body contouring procedures.
Dr. Markmann's technique consists of the "Super-Wet" approach, which is a suction-assisted (SAL) technique that utilizes a power-assisted motor to aid in the removal of stubborn fat deposits. Dr. Markmann injects a saline solution and epinephrine into the predetermined areas. He will then insert a cannula which is attached to the vacuum and begin removing fat cells from the body.
 Dr. Markmann is highly skilled in these various methods and will determine which technique is best to reach your ideal results during your personal liposuction consultation at our Ellicott City location. 
Recovery
Following liposuction surgery, you will be placed in a compression garment for your body to adjust to its new contour. Swelling and bruising are normal and will improve within a few weeks. Patients will be able to enjoy their final results in several months. Small scarring where the cannula was inserted is possible but will fade over time. Dr. Markmann always does his best to place the incisions where potential scarring will be hidden.
Results
You will be able to notice an improvement in your figure right after surgery! These results will only get better as swelling decreases. Liposuction results are long-lasting so long as you live an active and healthy lifestyle and maintain a consistent weight. Liposuction is great for body contouring to enhance your overall appearance.
Corresponding & Complementary Procedures
The most common body contouring procedure performed with liposuction is a tummy tuck. A tummy tuck is a procedure that removes loose skin from the abdomen due to factors such as weight loss or pregnancy. Depending on the amount of skin that needs to be removed, either a mini, full, or extended technique will be performed. Liposuction and tummy tucks go great together because the combination of abdominal fat and skin removal creates an amazing hourglass figure.
Check out our blog to read about more interesting and exciting procedures we offer at Metamorphosis Plastic Surgery.
Cost
Liposuction prices vary for each patient because we customize your treatment at Metamorphosis Plastic Surgery. If you would like to learn more about the cost of surgery, schedule a consultation with Dr. Markmann today by calling (410) 465-3600.
Liposuction FAQs
Is liposuction dangerous?
Patients can receive poor results when the procedure is performed incorrectly or at an unreputable establishment, so it is very important to do research and find an experienced surgeon to help them achieve the best, most natural-looking results. Dr. Markmann has performed liposuction for 25+ years and prides himself on providing beautiful results as safely as possible.
Are liposuction results long-lasting?
If you follow a healthy diet and exercise regularly, the results of liposuction can be enjoyed for many years following surgery. The fat cells that are removed do not return, but it is possible to gain weight in the remaining fat cells or other areas where liposuction was not performed.
How much fat does liposuction remove?
For patient safety, the American Society of Plastic Surgeons doesn't recommend removing more than 5 liters of fat. That is considered high-volume lipo which could potentially lead to surgical complications. Dr. Markmann performs these procedures at an accredited center for safety. He will determine what is a healthy amount of fat to be removed during your personal consultation.
Is skin tightening a part of the liposuction procedure?
Liposuction only addresses fat removal; it does not remove sagging or loose skin. If loose skin is also a concern, there are procedures specifically meant to remove skin and improve contours such as a tummy tuck, neck lift, and thigh lift.
What is the cost of abdominal liposuction?
The cost of abdominal liposuction is dependent on the procedure performed and how long the surgery will take. A breakdown of costs for your personal surgery will be provided during your consultation.
Does liposuction have a long recovery period?
Patients can return to work in a few days if their job doesn't require physical exertion because that will lead to a longer recovery. Multiple factors contribute to the healing process since everybody responds to surgery and recovery differently. Also, recovery time will depend on how many areas are treated. Dr. Markmann will estimate your recovery time based on your procedure and current health at your initial consultation.
References
Bartow MJ, Raggio BS. Liposuction. PubMed. Published 2022. Accessed September 11, 2022. https://www.ncbi.nlm.nih.gov/books/NBK563135/