Fat Transfer for Buttock
Conveniently located to serve the areas of Baltimore, Columbia, Ellicott City and Maryland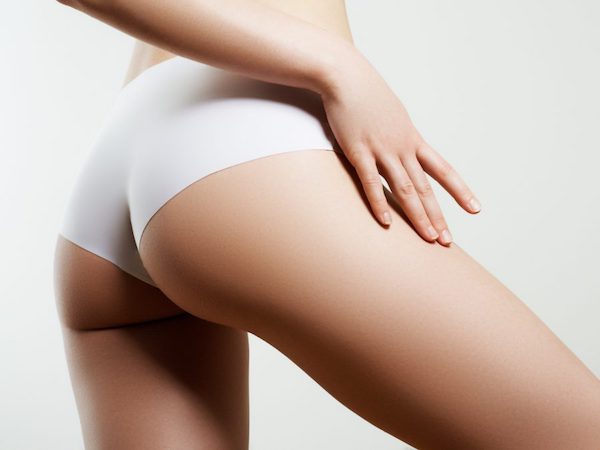 We are driven by a sense of accomplishment. Every day, we strive to be better than we were the day before. At work, at the gym, and in our personal lives, we seek improvement. It is the human condition.
But gains can sometimes cause pain. We must not rush to an easy solution without thinking about the ramifications. Buttock enhancement can be wonderful, as long as it is done in the right ways. For individuals who are unhappy with having a flat backside, there are cosmetic options that can help remedy the problem. Dr. Daniel Markmann offers butt enhancement surgery, and feels that the fat transfer and buttock augmentation approaches are the safest and most effective ways to produce lasting results for qualified patients.
Under Dr. Markmann's expert leadership, Metamorphosis Plastic Surgery can guide your aesthetic journey. Conveniently located in Ellicott City, we proudly serve the Baltimore area and beyond. Contact our office at your earliest convenience to learn about the safest, most stunning ways to boost your backside.
We also offer virtual consultations for those who cannot visit us in person. No matter where you log on, Dr. Markmann wants to connect.
Before and After Photos
What Are Buttock Injections?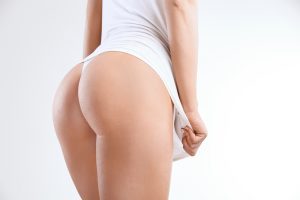 Buttock injections are enhancements that selectively add volume and definition to the backside. Improvement can be approached a number of different ways, and these methods must be discussed between the patient and surgeon well before any procedure takes place.
It is important to note that Dr. Markmann, as well as the majority of skilled, board-certified plastic surgeons, typically do not use "butt injections" with a silicone-based filler. Historically, patients that receive butt injections of this type are dissatisfied. In addition to having unsightly results, there are risks associated with injections of this type.
Instead of silicone buttock injections, Dr. Markmann has perfected alternative approaches to rounding out the rear-end without compromising the health and satisfaction of his patients.
Buttock Implants
Before we delve into the details of buttock injections, it is worth noting that Dr. Markmann offers safe, supportive buttocks implant options. These medical devices are made from encased silicone shells rather than injections into the subcutaneous tissue.
Fat Transfer for Buttocks
Instead of using silicone butt injections, Dr. Markmann prefers the FDA-approved method of grafting fat from your "problem areas" and transferring them to the backside. The doctor begins by listening to your needs and aesthetic goals. Tell him where you have a little excess bulk and he can determine if it is a viable option for fat cell harvest. Next, Dr. Markmann gently vacuums unwanted fat cells from your body and purifies them for re-insertion.[1] These cells can lift and volumize your back end, and Metamorphosis Plastic Surgery is the ideal destination to realize your aesthetic vision.
Benefits of Body Contouring
Dr. Markmann is a fat transfer specialist and offers the Brazilian butt lift, which uses fat from the patient's own body. Patients who are dissatisfied with their lack of shape can now enjoy having a more rounded figure as a result of this procedure without unnecessary risk.
People are continuing to show interest in the Brazilian butt lift procedure. It was developed about a decade ago, and has been gaining popularity ever since. Patients can safely, beautifully enhance their backside by having fat removed from one area of the body and transferred to another. There is little risk of allergy or adverse reaction with the autologous fat transfer procedure, because the patient's own body fat is used.
The benefits of a Brazilian butt lift are two-fold: the areas around the backside are slimmed while the rear end itself is plumped. Fat grafting injections help achieve this goal naturally and safely.
Benefits of Fat Transfer to Buttocks
Harnesses the power of your body's own fat cells
Minimizes risks of allergic reactions from synthesized fillers
Enhances the contours of your backside
Increased confidence
Clothes fit more flatteringly
To experience the many benefits of fat transfer to the buttocks, contact Metamorphosis Plastic Surgery in Ellicott City, Maryland.
Eligible Candidates
If you want a boost on your backside, then fat transfer may be the perfect solution for you. Good candidates must have enough viable fat cells available in their donor sites to contribute to the fat extraction process. Eligible patients are those in good health with the proper skin laxity along the buttocks.
If you struggle with loose, excess skin, then a body lift may work better for you. Dr. Markmann can determine your candidacy for fat transfer to the buttocks during your individual consultation.
Private Consultation Near Baltimore
Every great transformation begins with a simple conversation. We appreciate the opportunity to communicate with our patients, whether it is in the form of our blog or a one-on-one consultation.
Often, Dr. Markmann finds that patients have numerous questions regarding buttock injections; they range from "How much do buttock fat injections cost?" to "Can I choose silicone buttock injections or hydrogel buttock injections instead?"[2] In order to address each of these inquiries, our Baltimore buttock enhancement doctor invites you to schedule an initial consultation. Contact Metamorphosis Plastic Surgery today to request this appointment with Dr. Markmann.
Preparation and Procedure
During the consultation process, you will receive detailed instructions on how to prepare for your buttocks enhancement. These directions will be tailored to your anatomy and cosmetic goals. In general, you will be advised to quit smoking several weeks before any surgery. You should also consider not taking certain supplements that thin your blood. Optimal circulation is essential to the fat grafting process. Not only do you want to heal properly along your donor site(s), but you also want the blood vessels in your buttocks to facilitate the adaptation of your fat cells to their new home.
At the office of our Maryland buttock expert, Dr. Markmann begins the transfer procedure with liposuction to harvest the fat. Fat deposits may be extracted from an area around the buttocks, or if more fat is located on the abdomen, it may be extracted from that location. Next, the fat is processed and purified. Finally, it is re-inserted into the target area: the buttocks.
The entire procedure may take up to 6 hours to complete. Dr. Markmann is thorough and artful in his approach. Every case is unique, so the duration of your procedure may be quicker, depending on the contours of your body.
Recovery and Results
The healing process unfolds differently for every patient. In general, you are asked not to sit on your buttocks for at least three weeks to allow them ample time to recover. Avoid strenuous activity during this period and be sure to take the appropriate time off work. Rest is an essential component to recovery. Do not rush the healing process; great results are worth the wait!
Satisfaction and safety are the twin pillars of our profession. Dr. Markmann has honed his surgical skills to deliver the safest and most reliable results possible. Our glowing reviews speak volumes. We are humbled by our patients' kind words and strive to continue providing 5-star service to Ellicott City, Baltimore, greater Maryland and beyond.
FAQ
How much does fat transfer cost in Baltimore?
Fat transfer is a delicate process involving several factors that will affect the price of the procedure. Metamorphosis Plastic Surgery is proud to offer several financing options to help our Maryland neighbors afford the best care at the right price. We also run occasional specials, so check back often to see our seasonal discounts on buttock enhancements. The cost of wellness and improvement should never be prohibitive. 
Are buttock enhancements safe?
It is extremely important to define our terms carefully. Any reputable surgeon will steer you away from silicone butt injections due to the dangers of directly adding foreign additives to subcutaneous tissue. Buttock implants are considered much safer due to their contained nature. The FDA has not approved hydrogel or silicone injections for butt enhancement.Fat transfer, however, uses your own cells to augment the size and shape of your rear end. Since they build on a foundation of your own biological material, they are safe and effective, especially when performed by a board-certified aesthetic surgeon. Contact Metamorphosis Plastic Surgery to benefit from Dr. Daniel Markmann's expertise and careful consideration.
References
Murillo, W. L. (2004). Buttock Augmentation: Case Studies of Fat Injection Monitored by Magnetic Resonance Imaging. Plastic and Reconstructive Surgery: 114(6)1606-1614. doi: 10.1097/01.PRS.0000138760.29273.5D
Manafi, A., Emami, A., Pooli, A.H. et al. (2010). Unacceptable Results with an Accepted Soft Tissue Filler: Polyacrylamide Hydrogel. Aesthetic Plastic Surgery. 34, 413–422. https://doi.org/10.1007/s00266-009-9359-3