Laser Skin Tightening (Reaction)
Conveniently located to serve the areas of Baltimore, Columbia, Ellicott City and Maryland
Radio frequency (RF) skin rejuvenation, also referred to as "skin tightening", is considered one of the biggest breakthroughs for the anti-aging market. This procedure works differently from other laser technologies because the laser penetrates deeper into the skin to make improvements to surface wrinkles.
Skin rejuvenation using RF technology is used to stimulate collagen production within the skin's deep layers in order to improve imperfections on the surface. It creates a tighter looking appearance and softens wrinkles and facial lines. Baltimore plastic surgeon, Dr. Daniel Markmann, offers various options for nonsurgical skin tightening. After an initial consultation, he will provide a treatment plan that produces the aesthetic results the patient desires.
Treatment Types
Reaction by Viora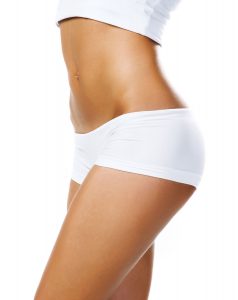 Dr. Markmann is proud to offer Reaction by Viora for patients seeking nonsurgical skin tightening. Reaction uses high-intensity radio frequency energy to stimulate the production of collagen and soften the appearance of wrinkles and lines. This advanced system also incorporates vacuum therapy to initiate several processes, including deep tissue heating which is necessary for the production of collagen, as well as mechanical stretch and manipulation of the skin. Reaction targets different tissue depths, from the superficial layers all the way to the hypodermis. All of these components blend together to help improve skin laxity, reduce sagginess, decrease the appearance of cellulite, and create a softer skin appearance. Reaction can be used for the arms, buttocks, hips, thighs, face, neck, tummy and waist. Dr. Markmann performs this procedure in-office in less than 30 minutes. For most patients, 6-8 treatments are necessary to attain the desired results.
Ultherapy by Ulthera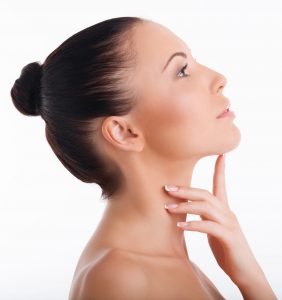 Ultherapy is another skin tightening technology offered by Dr. Markmann. It addresses the same facial features of that of a surgical facelift, including the eyebrow, neck and under the chin, but in a noninvasive manner. Ultherapy uses ultrasound energy to stimulate the deep structural support layers of the skin. These layers, once stimulated, allow the body's own natural healing process to lift and tighten loose skin on the face and neck, without disturbing the surface. The result is a tighter skin appearance that is smoother and younger looking. Ultherapy is an in-office, outpatient procedure that is performed in less than 30 minutes. This procedure will produce a "boost" in the skin's appearance almost immediately, however, optimal results typically reveal themselves over time within 2-3 months.
LASER SKIN TIGHTENING FAQS
Ideal Candidates?
Radio frequency skin rejuvenation is a procedure that improves loose skin and wrinkles. It is not a treatment for weight loss, and does not necessarily affect the texture or surface irregularities such as pigmentation, discoloration or age spots. Individuals who are not comfortable with a surgical procedure, such as a facelift, but still hope to slow down the visible signs of aging, may benefit from this technology. Patients with excessive loose and sagging skin will be better candidates for a body contouring surgical procedure.
How Long Do The Results Last?
The results following radio frequency skin tightening can last up to 2 years. Similar to many other noninvasive anti-aging skin treatments, this procedure can be repeated per Dr. Markmann's discretion.
How Many Treatments?
This depends on the condition of your skin, the results you wish to attain, and the size of the area being treated. In general, it could take as few as 4-6 treatments for the face, and upwards of 10-15 treatments for the body. For optimal results, ongoing maintenance sessions are recommended.
Similar To Surgical Lift?
While radio frequency skin tightening stimulates collagen and tightens underlying structures, which result in a firmer skin appearance, a surgical facelift will produce a more dramatic effect. Patients may want to consider a treatment such as radio frequency skin tightening prior to undergoing a surgical procedure.
Combination Procedures?
It is common for Dr. Markmann to suggest a full treatment plan that includes laser skin resurfacing and laser skin tightening, as well as possible injection treatments, such as BOTOX and fillers. Using a combination of nonsurgical treatments create outstanding, lasting results. Many times, patients are able to put off surgery for years.
* All information subject to change. Images may contain models. Individual results are not guaranteed and may vary.