HydraFacial
Conveniently located to serve the areas of Baltimore, Columbia, Ellicott City and Maryland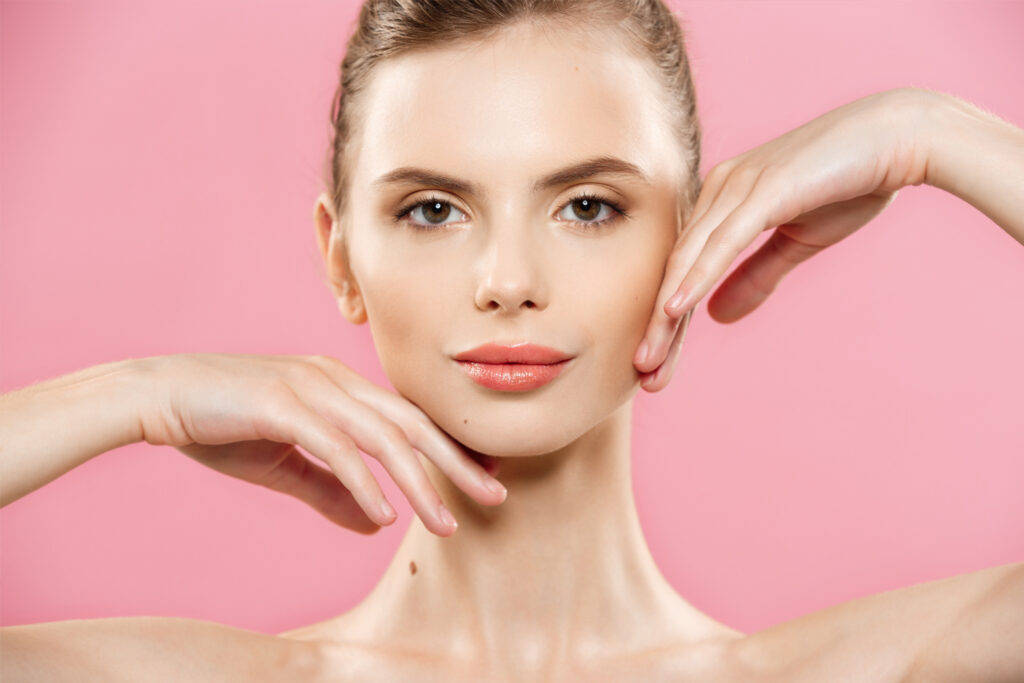 Non-Invasive Skin Resurfacing
A HydraFacial is a combination three-stage skin resurfacing treatment to successfully treat a variety of conditions including acne scarring, excess oil, hyperpigmentation, UV damage, and aging skin. It produces smoother, brighter-toned, detoxified skin with zero downtime. Non-invasive procedures such as these can be a great alternative to a chemical peel or similar abrasive techniques, and produce similar results. Studies have illustrated that, compared with more invasive techniques, skin resurfacing procedures such as HydraFacials are associated with less downtime and fewer adverse events. (1) They can also be used to give your skin a quick, effective pick-me-up to look your very best for a special event or occasion!
For an innovative way to approach facial rejuvenation, look no further! Erase years of blemishes, dark spots, sun damage, and visible pores with a HydraFacial treatment from Baltimore's Metamorphosis Plastic Surgery. Led by board-certified, experienced plastic surgeon Dr. Daniel Markmann, you are in good hands at our welcoming office. For information about booking a personal consultation, and further details on how to customize your Hydrafacial treatment call 410-465-3600 or fill out this convenient contact form. Our trained staff will get back to you as soon as possible to address your request!
About Hydrafacial Treatment
Hydradermabrasion techniques such as the HydraFacial are excellent choices for persons with darker skin tones, aging skin, sensitive skin areas, oily, and dry skin complexions. (1) The three stages of a HydraFacial treatment are as follows.
Stage 1: Cleansing & Peeling Vortex
Stage 2: Extracting & Hydrating Vacuum
Stage 3: Fusing & Protecting Topicals
What Can I Improve With a HydraFacial Treatment?
Blemished Skin
Acne-prone skin
Oily skin type
Clogged pores, blackheads
Hyperpigmentation
Enlarged pores
Blemished skin
Aging/Photodamaged Skin
Wrinkles and lines
Age spots
Sun damage
Unbalanced Skin
Dry skin type
Uneven skin tone (e.g. Rosacea)
The HydraFacial Device
The HydraFacial machine is a versatile system with a specialized selection of detachable wands. These wands each have their own specific role in the HydraFacial procedure. A clearing vortex, extracting vacuum, and a pen-like attachment to apply serums and topical antioxidants work in unison to extensively refresh and rejuvenate the skin. Studies show that after hydradermabrasion, polyphenolic antioxidant levels in the skin increase. (2) Polyphenolic acid antioxidants can neutralize damaging free radicals, reduce inflammation, and protect the membranous surface of cells.
Benefits of a HydraFacial
The Trouble With Sebum
Sebum plays a vital role in skin lubrication, hydration, and protection. However, when the body produces this substance in excess, it can result in clogged pores, blackheads, whiteheads, and a bumpy texture. Moreover, elevated sebum excretion from the sebaceous glands is believed to play a major role in the development of acne vulgaris. (3)
Hydrafacial treatments can help patients with acne achieve less oily skin, maintaining hydration and integrity. Other benefits include the following.
Gentler than other options (e.g. microdermabrasion)
Very low chance of complications
No downtime after treatment
Tailored to your skin type
Suitable for all skin types
Can augment other procedures
Boost Your Way to Healthier-Looking Skin!
A HydraFacial treatment from our medical esthetician can be the perfect opportunity to mix and match the best topical treatments for your particular skin type. The details of each booster treatment are listed below.
Growth Factor BOOSTER – This concentration of essential growth factors will moisturize the skin and smooth away fine lines and wrinkles.
Bright Alive BOOSTER – Ogliopeptide-68, Diglucosyl Gallic Acid, and N-Acetyl Glucosamine act to clear the complexion and rid the skin of blemishes.
Dermabuilder BOOSTER – Octapeptides, dipeptides, and deep hydrating conditioners restore the skin to fight fine lines and brighten skin tone.
Britenol BOOSTER – Alpha-Arbutin and Vitamin C antioxidants repair your skin to erase the effects of sun damage, blemishes, and hyperpigmentation.
HydraFacial super serums are made with nourishing ingredients that create an instantly gratifying glow. (4)
Candidates for HydraFacial Treatment
A HydraFacial skin treatment is safe for men and women of all skin types. This is particularly beneficial for patients with darker skin tones, for whom the risk is high for hyperpigmentation from chemical peels and dermabrasion techniques. This facial is a wonderful option for patients who want to smooth, tone, detoxify, or soften their skin. If you have oily skin, fine lines, wrinkles, uneven skin tone, dry skin, sun damage, hyperpigmentation, or large pores, you are a candidate for the benefits of HydraFacial!
Personal Consultation
At Metamorphosis Plastic Surgery, we can create a bespoke HydraFacial treatment to meet your specific needs. Each candidate will receive a private opportunity to speak to one of our medical estheticians. We will assess your skin health and discuss your aesthetic goals with you. Once we have a clear sense of the improvements you would like to make, we will personalize a HydraFacial treatment with you. Together, we will determine which enriching and nourishing serums will be applied during your HydraFacial.
See the benefits of other facial rejuvenation procedures on our social media! Give us a like and a follow on Facebook, and subscribe to Dr. Markman's YouTube channel!
The HydraFacial Procedure
The first stage of HydraFacial technology works in a similar manner to microdermabrasion, minus the tiny abrasive components. Instead of exfoliating with propelled microcrystals, it uses a combination of oxygen and aqueous solutions at supersonic speeds. This clears debris and dead cells that are then suctioned away. Our patients sometimes describe the sensation as similar to sandpaper, with very mild discomfort. After this, the vacuuming stage extracts excess sebum deposits and hydrates the skin, preparing it fully for the introduction of a tailor-made blend of antioxidants and topical skin rejuvenators.
HydraFacial uses a unique, patented Vortex-Fusion delivery system. It exfoliates, extracts and hydrates skin, and, the spiral design delivers painless extractions. (4)
Recovery & Results of a HydraFacial Procedure
A HydraFacial is an excellent option for people seeking a non-invasive way to resurface and rejuvenate their skin. You will be ready to return to work, your errands, or take a night out on the town right after your HydraFacial, with no downtime required! Dr. Markmann advises his patients to limit sun exposure following this treatment. Protect yourself over the week following your HydraFacial and use gentle cleansing products. Drink plenty of water and get adequate rest each night to extend the healthy, glowing results of your treatment.
Visible results from a HydraFacial are immediate! Patients will leave their appointment with clearer, rejuvenated skin! View glowing testimonials from Dr. Markmann's real patients here!
Cost of a HydraFacial in Baltimore
At Metamorphosis Plastic Surgery, we know that every patient is unique. Your customized HydraFacial procedure will vary in cost according to your specific requirements, and according to what Dr. Markmann deems necessary to achieve your aesthetic goals. For financing options from trusted providers, please see our website.
FAQ
What is a hydrafacial?
A hydrafacial is a multi-faceted cosmetic facial treatment to rejuvenate and revitalize the skin. As an alternative to chemical peels and similar treatments, HydraFacial technology can help patients with; aging skin, acne-prone skin, hyperpigmentation, sun-damaged skin, and a number of other conditions. It works by cleansing the surface of the skin of excess sebum and dead skin cells that can dull your appearance, then extracting debris with a vacuum handpiece. Finally, a customized mix of serums and antioxidants with beneficial skin reinvigorating will be applied to complete your new facial aesthetic.
Can I get a hydrafacial if I have darker skin?
Yes! Unlike some other skin-renewing treatments, a HydraFacial is a more suitable option for darker skin. There is minimal risk of hyperpigmentation and adverse post-treatment events.
Is a hydrafacial the same as microdermabrasion?
Although similar to microdermabrasion, the method through which the skin is resurfaced in a HydraFacial differs slightly. Microdermabrasion uses tiny microcrystals to blast the skin. In a HydraFacial, a trained medical professional uses a combination of oxygen and aqueous solutions at exceptionally high speeds to achieve similar cleansing and peeling results.
Does a hydrafacial hurt?
Many patients prefer HydraFacial skin treatments because they are far less painful than microneedling, and more comfortable than a chemical peel. Some people have likened the experience to a "sandpapery" sensation or even the lick from a cat's tongue! This type of procedure is perfect for giving your skin a much-needed glowing boost before a special occasion such as a wedding or photoshoot.
References