Breast Augmentation (Mammaplasty)
Conveniently located to serve the areas of Baltimore, Columbia, Ellicott City and Maryland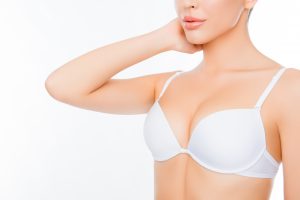 For larger, fuller, more shapely breasts, there is no better choice than a breast augmentation procedure. Breastfeeding, pregnancy, changes in weight, and aging are all known to affect the size and shape of a woman's breasts. If you would like to add volume or enhance the shape of your breasts, Dr. Daniel Markmann achieves beautiful breast augmentation results with saline and silicone implants, as well as fat grafting. Fat grafting is a safe procedure performed using autologous fat, which is fat sourced from your own body. Fat transfers can be performed as a stand-alone procedure or to complement the results achieved with implants.
Dr. Markmann is one of Baltimore's Top Plastic Surgeons and has extensive expertise in breast enhancement. His patients consistently rave about their breast augmentation results. You will love how natural your augmented breasts look and feel! Reach out to our helpful staff to learn more about your breast augmentation options today.
Before and After Photos
Types of Breast Augmentation
Dr. Markmann will assess your case to help you determine the best breast augmentation option for you during a private, informative consultation.
Your breast augmentation at Metamorphosis Plastic Surgery will be customized to achieve your preferred breast size and shape. Dr. Markmann offers breast augmentation with saline implants or silicone implants. If you are interested in adding subtle volume to your breasts, a fat transfer to the breasts can achieve beautiful, natural results. Fat transfer can also be combined with implant surgery in order to achieve an ideal shape and symmetry of the breasts.
Augmentation with Implants
Breasts implants can be filled with either saline or silicone. Both options are popular and consistently produce high rates of patient satisfaction. Whether you augment your breasts with silicone or saline largely depends on your personal preference.
Saline Implants
Saline implants have a firm but natural feel.
Saline implants are a silicone shell that is filled with sterile saline solution. They achieve a high-sitting, pronounced breast projection. Saline implants are placed in the breast empty and filled with saline once within the breast. This has the advantage of reducing strain on the body during the breast augmentation procedure. Many women choose saline due to the fact that any potential leaks will be harmless to the body. Leaks are rare, but if they do occur, it will only be sterile saline that is released into the body. Saline implants cost less than silicone implants. In some cases, saline implants have a slightly higher chance of being detected within the breast or of contributing to "rippling" at the edges of the breast.
Women who are thinner and have less breast tissue have a higher chance of saline implants being detected within the breast.
Silicone Implants
Silicone implants are highly popular among patients seeking natural-looking augmentation.
Silicone implants are pre-filled with a silicone gel. Silicone breast implants most closely mimic the feel of natural breast tissue. Advancements in the design of silicone implants keep the silicone gel contained within the casing, reducing the chance of implant leaking. In the rare case of a silicone implant leaking, the leaked silica will be removed and the implant will be replaced. The leak can create discomfort within the breast, but will not pose a health risk. Women who receive silicone implants may elect to have MRI check-ups every 3 years or as needed to be screened for implant leakage, also referred to as a "silent rupture." Leaks are rare but will be caught without issue with regular implant monitoring.
Both silicone and saline implants are safe, FDA-approved methods of adding complementary volume to the breasts.
Augmentation with Fat Transfer
Fat transfer is frequently added to breast augmentation with implants to enhance outcomes.
Fat grafting to the breasts is an increasingly popular way to add volume and symmetry to the breasts. Breast augmentation with fat transfer is an excellent option for patients who are interested in going up a single cup size. Fat transfer can also be used to address tissue irregularities and correct breast asymmetries. In order to perform a fat transfer, Dr. Markmann first performs liposuction at your chosen donor site. Women frequently choose their flanks, abdomen, or thighs for their fat collection site. The collected fat will be processed through a centrifuge and prepared for re-injection.
Due to the fact that liposuction is performed, fat grafting has the added benefit of slimming and sculpting an additional part of your body.
Once it has been processed, your autologous fat will be carefully injected into the breast. Due to the fact that not all fat cells will survive being transferred during fat transfer, Dr. Markmann may "overfill" the breasts to achieve the best outcomes. He takes care to distribute the fat evenly and create your preferred breast appearance with your transferred fat.
Implant Options
You will be able to customize your implant shape, texture, and profile to your specific breast augmentation goals. Dr. Markmann will go over these options with you during your private consultation at Metamorphosis Plastic Surgery.
Shape
Both saline and silicone implants are available in two shapes: round or teardrop shaped. Round implants create a full, round breast appearance. Round implants distribute volume evenly throughout the breast. A teardrop-shaped implant is full at the bottom and sloped at the top.
Teardrop-shaped implants replicate the appearance of a natural breast. The implant shape you receive will depend on if you prefer a fuller or more natural-shaped breast.
Texture
If you received a textured implant in the past, Dr. Markmann will be happy to answer any questions you may have about your best options.
The exterior of the implant can be smooth or textured. Smooth implants are the most common. Textured implants were designed to reduce the chance of scar tissue developing around the implant, also known as capsular contracture. However, there is not yet sufficient evidence to support this claim. Teardrop-shaped implants are frequently textured in order to help the implant stay in place. Due to the fact that textured implants have shown a rare correlation with large cell lymphoma BIA – ALCL in the breast, textured implants are now less popular. The development of this issue remains rare. The FDA still gives textured implants their approval at this time.
Profile
Your chosen implant will also make a difference in the profile of your breasts. Dr. Markmann will discuss your options with you in order to help you select the implant that will produce your desired profile. The type of implant profile that is right for you will in part depend on the width of the implant on the chest wall related to the width of the base of the breast.
Silicone implants are available in low, moderate, high, and extra high profile.
A high profile implant will have a more pronounced projection from the body but will take up less width within the breast in relation to the chest. Implants with a moderate profile will have a medium amount of projection and take up more space within the breast cavity parallel to the chest. This allows Dr. Markmann to customize your implant profile to your preferred outcome.
Implant Placement
Implants placed beneath the chest muscle achieve a natural look within the breast.
Your breast implant will be placed either above or below your pectoral muscle. The type of placement you receive will depend on your preferences, your existing breast tissue, and your chosen implant size and weight, as well as Dr. Markmann's professional recommendation. The effects of gravity and time are also taken into consideration when determining your best implant placement options. Dr. Markmann, in addition to most other surgeons, prefers to place the implant under the chest muscle. Submuscular placement has many benefits, including the fact that the implant tends to stay in the desired position for the long-term when placed at this depth.
Incisions
The type of incision used to place your breast implant will depend on Dr. Markmann's recommendations and your treatment preferences.
Surgeons frequently perform breast augmentations using an incision made along the fold beneath the breast, also known as an inframammary incision. Other common types of incisions include the periareolar incision, which is made around the areola, where the skin has a darker pigment. The third incision method is the transaxillary approach, during which the implant is placed through an incision made in the armpit. In rare cases, the implant is placed through an incision made around the belly button.
It will only be necessary to make incisions in the breast if you are receiving a breast implant.
If you receive breast augmentation with fat grafting, Dr. Markmann only needs to make tiny incisions to perform minimally-invasive liposuction in your predetermined donor site. These slim incisions will be made in a part of the body that will heal well and be easy to conceal. Breast augmentation with fat grafting is performed with a fine-tipped medical grade syringe.
Candidates
You are a good candidate for breast augmentation with Dr. Markmann if you:
Would like to add or restore volume to your breasts
Would like to accomplish your ideal breast size and shape
Want to improve your figure overall
Are at a stable weight
Are in overall good health
Are not a smoker
Have realistic, open-minded expectations of the outcomes achievable with breast augmentation
Candidates must be over 18 to receive breast augmentation with saline implants and over 22 to receive silicone implants.
Consultation
Once Dr. Markmann has a clear sense of your desired outcomes, he will work with you to create a personalized breast augmentation plan.
Dr. Markmann will go over all aspects of the breast augmentation procedure with you during your private consultation. He will discuss your implant options, including the benefits of different implants profiles, textures, and shapes. He will work with you to give you a good understanding of your choices when it comes to implant placement and incision types. In order to help you determine what breast augmentation options will be right for you, Dr. Markmann will examine your breast tissue and assess your medical history.
To get a sense of the beautiful results Dr. Markmann achieves, you will have a chance to look at photos of previous patients who are happy with their breast augmentation results. But, even better than that, Dr. Markmann is one of the very few Plastic Surgeons who offer VECTRA 3D Imaging which will show you, with over 99% accuracy, what your breasts will look like with any implant you choose.
Breast Augmentation Procedure
Your breast augmentation will be performed as an outpatient procedure in an accredited surgical facility. Depending on the details of your individualized breast augmentation, your surgery will be performed within one to two hours. You will receive your breast augmentation under general anesthesia.
The type of implant you receive, the depth of the implant, and the type of incision used to perform your procedure will be customized to accomplish your preferred outcomes. Patients may receive liposuction and fat transfer in addition to their implant, or as a stand-alone procedure.
After Surgery
You will receive personalized instructions to help you complete your most comfortable recovery following your breast augmentation. Dr. Markmann also recommends a pain pump which delivers numbing medicine to your breasts for the next 5 days to help minimize your pain. Downtime will be necessary following your procedure. Rest as much as possible during the first 48 hours of your recovery. Take short, intermittent walks to maintain healthy circulation.
Post-procedure bruising and swelling are normal. You will receive a compression strap called a Bandeau to wear over the weeks of your recovery. Your Bandeau will help to keep your breast implants in the appropriate position. The chest may feel tight as it heals.
You will be able to return to your usual schedule within seven to 14 days of your augmentation. Avoid exercise for four to six weeks.
You will return to Metamorphosis Plastic Surgery within one to three days of your breast augmentation for a postoperative follow-up. Dr. Markmann will continue to meet with you regularly throughout your recovery to guarantee you are making your best possible recovery. You will also receive a complimentary annual follow-up appointment.
Final results can be enjoyed within six months! Your breasts will feel soft, look natural, and sit in your preferred position. They will be fuller, more symmetrical, and more flattering to your figure overall.
FAQS
Natural or Artificial?
The choice of silicone versus saline comes down to a number of factors. Overall, it depends on your personal preference and what option will be best for your body. Silicone implants are a good option for women who have minimal breast tissue. Saline implants are often recommended for women with the right amount of existing breast tissue. Breast augmentation with fat grafting also achieves natural, subtle improvement in both the size and shape of the breast. Fat grafting to the breast can last long-term but it also has the chance of the fat being reabsorbed by the body.
Silicone Risk?
Modern advancements in the medical and cosmetic field have made silicone-based implant shells safer and more durable. The FDA has investigated and approved today's silicone implants for safe use. Silicone implants are highly popular today due to their longevity and natural feel.
Implant or Lift?
Breast augmentation is designed to add volume and shape to the breasts. A breast lift, on the other hand, will correct drooping of the breast. A breast lift, also known as a mastopexy, will tighten loose skin to achieve a more youthful, raised breast position. Dr. Markmann will discuss the benefits of combining breast augmentation with breast lift during your private consultation.
Silicone Leakage?
Modern silicone implants are more durable than ever and unlikely to leak. Advancements in implant design keep the silicone gel intact in case of rupture. You may receive an MRI within three years of receiving your silicone implant and every two years following that point in order to check for implant rupture.
Implant Replacement?
The average life of your implant is expected to be 20 years or more. In the case of breast rippling or other rare issues, your breast implant may need to be replaced. However, issues are unlikely, and it is rare to need to have your implant replaced before the twenty-year mark. All three breast implant manufacturers in America give you a lifetime warranty against ruptures. If any implant ruptures during your lifetime, the implant company will give you 1, or if you want, 2 free implants. That way you change to a different size if you would like. The Implant company, Sientra is Dr Markmann's choice because not only to they make great implants, but they also offer the best warranty. In addition to the lifetime warranty, they give you a monetary reimbursement if your implant ruptures within the first 20 years of $5000 plus the one or 2 free implants. The other 2 companies only give you about $3000 if it ruptures within the first 10 years. You will receive a complimentary annual regular check-ups in order to assess the health of your implants.