Tummy Tuck
Conveniently located to serve the areas of Baltimore, Columbia, Ellicott City and Maryland
Men and women who have a problem getting rid of excess fat and stretched skin in the abdominal region, even while adhering to a healthy diet and frequent exercising, may want to consider a tummy tuck procedure.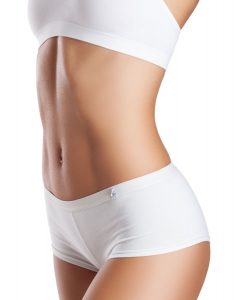 Dr. Markmann, a top-ranked plastic surgeon and tummy tuck expert in the Baltimore area, enhances the abdomen's appearance by tightening the abdominal wall skin and muscles*. This procedure is common among women following pregnancy, and in men and women after significant weight loss. Patients considering a tummy tuck should ideally be near their goal weight.
Interested in the benefits of a Tummy Tuck? Schedule a private consultation with Dr. Markmann at Metamorphosis Plastic Surgery today.
Before and After Photos
SURGICAL TECHNIQUES
Full Tummy Tuck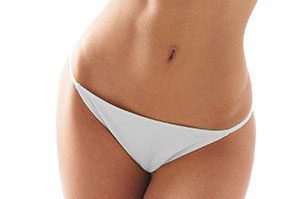 In patients who undergo a full tummy tuck, the incision is made from hip-to-hip just over the pubic area. This results in a scar line that is horizontal and can be hidden when wearing undergarments*. It is commonly performed on women with significant skin folds after multiple pregnancies. This technique allows the surgeon access to a large portion of the abdomen while repositioning the belly button so that its placement appears natural*. Liposuction may be performed to remove excess fat preceding the skin tightening portion. The internal abdominal muscles are secured for a firm, toned appearance*.
Mini Tummy Tuck
An alternative to the traditional technique is the mini tummy tuck, which is also known as a "Brazilian tummy tuck." The difference is that ideally, the patients that undergo this procedure are already in relatively good shape with a healthy skin tone above the belly button, but still have loose skin on the lower abdomen. Unlike the full tummy tuck, the belly button is unaffected and the incision is usually smaller*. Liposuction is used (if needed) to remove excess fat, and the loose skin is removed and pulled tight.
Extended Tummy Tuck
In cases when major skin tightening and body contouring is needed, an extended tummy tuck is recommended*. This is a necessary technique for patients who have undergone a significant weight loss. It was developed after some patients noted that even after a full tummy tuck, the parts surrounding the abdomen still showed excessive folds of skin. The incision is located low on the pubic region and extends across the lower abdomen to the lower back. This allows for more tightening of any excess skin of the sides and helps prevent "dog-ears" at the ends of the scars*.
Liposuction is still used and excess skin is trimmed then tightened. Similar to a full tummy tuck, the belly button is repositioned.
*results may vary
CANDIDATES
Are you experiencing the following?:
Loose, drooping, or sagging abdominal skin
Strained or torn abdominal muscles
Fat deposits on your stomach and flanks that refuse to respond to diet and exercise
A bulging or flabby abdominal appearance
Have recently (within 1 year) undergone bariatric surgery and rapidly lost weight
If you are experiencing any of the above and would like to tighten or improve your abdominal contour, you are a good candidate for a Tummy Tuck*. Dr. Markmann has helped countless men and women achieve the flat, toned abdominal appearance they desire*.
AFTER WEIGHT LOSS
If you have lost a significant amount of weight, your skin may have lost elasticity and now sits in a looser position on your slimmer frame. If you have completed major weight loss, you are likely a good candidate to have your abdominals and/or flanks tightened with the abdominoplasty technique that will be best for your case.
POST-PREGNANCY
To see the best results from your tummy tuck, candidates should complete the majority of their intended weight loss before receiving abdominoplasty*.
Women who have given birth are also good candidates to tighten or repair their abdominal muscles with a tummy tuck*. The best time to receive your tummy tuck will be after you have given birth to all your children. Subsequent pregnancies will undo the results achieved with your tummy tuck.
Dr. Markmann understands the unique needs of his patients' bodies. He accomplishes the feminine, toned contour often desired by female patients, as well as achieves an athletic, structured appearance with male liposuction*.
Ideal candidates for a tummy tuck are those who are in overall good health and at a stable weight.
Candidates for tummy tucks are non-smokers who have realistic expectations of the outcomes achievable with any cosmetic procedure. If you smoke, Dr. Markmann will discuss the recommended timeline in which you should discontinue smoking before and after your surgery.
If your abdominal appearance is a result of excess fat and tissue, your abdominal muscles are intact, and you have healthy skin elasticity, you may be a better candidate to achieve your goals with a body sculpting procedure like liposuction*. Dr. Markmann will determine your candidacy for a tummy tuck during your private consultation.
*results may vary
CONSULTATION
Dr. Markmann works with each patient to determine what unique treatment plan will be right for their body and personal goals*. Once he has examined your abdomen and discussed your medical profile with you, including past surgeries and current medication use, he will recommend a technique and plan he feels will achieve your best tummy tuck*.
If Dr. Markmann believes you will see your preferred results from a tummy tuck and liposuction performed jointly, or liposuction as a stand-alone procedure, he will share his professional opinion with you at this time.
We want you to feel informed and confident before you make any decisions at Metamorphosis Plastic Surgery. If you would like to learn more, Dr. Markmann looks forward to meeting you and answering any questions you may have during your private consultation.
*results may vary
DURING/AFTER SURGERY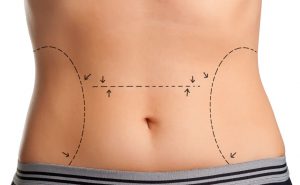 A tummy tuck is done under general anesthesia. It is an outpatient procedure, but an overnight stay can be required specific to complex cases. As with any other surgery, abdominoplasty comes with risks so it's best to discuss any health conditions you have prior to surgery*. After surgery, pain medications are provided and a compression garment is worn. You will receive personalized instructions to help you complete your best tummy tuck recovery*.
As with all surgeries, it is recommended that patients make a concerted effort to move around beginning the day after surgery, or even the day of to help blood circulation and reduce the risks of blood clot complications*.
Most patients take off about 2-3 weeks from work following their tummy tuck.
Patients will see their tummy tuck results improve over the weeks following their procedure*. As swelling subsides and the body accepts its new contours, your abdominal appearance will become increasingly slimmer*. Results are flattering and, thanks to the easily concealed scar, look natural!* Recovery may take up to 6-12 weeks before patients can return to the gym*.
*results may vary
TUMMY TUCK FAQS
Lipo Or Abdominoplasty?
Tummy tucks are reserved for patients who have stretched, loose skin in the lower abdomen as a result of pregnancy or obesity*. Liposuction, on the other hand, is for those who want to remove excess fat in the abdomen but still have a healthy skin tone*. During the initial consultation, we will provide a thorough assessment and determine if liposuction alone is all that is needed, or if a tummy tuck will provide the best results*.
Combining Procedures?
Normally, abdominoplasty is performed to improve loose skin and excess fat around the abdomen area. However, sometimes other cosmetic procedures, such as breast augmentation or a breast lift are done to further improve the overall look and feel of the body*. When this combination type surgery exists, it is known as a "mommy makeover". It is very popular among women after pregnancy who wish to get their pre-pregnancy body and figure back*.
How Bad Are The Scars?
Unfortunately, with a tummy tuck surgery, scars are unavoidable. However, extra measures are taken to make sure that scarring is minimal and well-hidden by clothing*. The incision line is placed in areas that can be concealed by undergarments. Previous C-section scars are typically removed with the excess skin and replaced with the tummy tuck scar. During the healing process, we will provide a post-operative protocol that includes scar treatment to help assist the scars in becoming less visible*. But, Dr Markmann always places the scar as low as possible so it can be easily hidden*.
How Dangerous is a Tummy Tuck?
The tummy tuck is a commonly practiced procedure that flattens and contours the abdomen into a more toned, attractive contour*. When performed by a board-certified surgeon like Dr. Markmann, the procedure is safe and produces beautiful results*. Dr Markmann performs tummy tuck surgery at a local hospital where his patients may spend the night in a private room for both comfort and safety. Common side effects after a tummy tuck are numbness, discomfort, bruising, and fatigue. These conditions will subside within six weeks of the procedure*.
Heart, lung, liver disease, smoking, or any condition that can affect your circulation can put you at risk for complications during any surgical procedure. Dr. Markmann will assess your medical history to determine if you are in good enough health to receive a tummy tuck. Notify Dr. Markmann if you have pre-existing conditions or sensitivity to anesthesia.
How Long Does an Extended Tummy Tuck Take?
An extended tummy tuck can be performed in three to four hours. A standard tummy tuck will be performed within two to three hours*.
Pregnancy After Tummy Tuck?
It is our recommendation that women who decide to have more children delay a tummy tuck procedure. The stretching of the skin as a result of another pregnancy can reduce the outcome of this procedure.
Is Tummy Tuck Permanent?
A tummy tuck will repair the abdominal muscles and tighten loose skin*. The procedure may also include liposuction, which will permanently eliminate fat cells from the body*. Patients who maintain their weight with a balanced diet and regular exercise will enjoy the tight, slim contour of their tummy tuck for the long-term!*
Pregnancy, lifestyle changes, age, and major weight fluctuations can affect the outcomes achieved with a tummy tuck. If you are interested in learning more about how you can enjoy the results of a tummy tuck for years to come, schedule a consultation with Dr. Markmann today!*
How Much Does Tummy Tuck Cost?
The price of a tummy tuck will depend on the details of your procedure, such as the technique you will receive and if you will be combining additional procedures with your tummy tuck. Once you complete your consultation at Metamorphosis Plastic Surgery, you will receive a breakdown that reflects the cost of your anticipated procedure.
* All information subject to change. Images may contain models. Individual results are not guaranteed and may vary.