Botox Cosmetic
Conveniently located to serve the areas of Baltimore, Columbia, Ellicott City and Maryland
Effective February 1st, 2020, there will be an increase in fees for any "botox/disport/jeveau or injectable filler treatments scheduled with Dr. Markmann. Please call our office at 410-465-3600 for more information.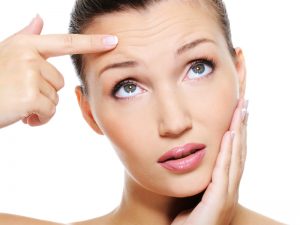 Botox is an injectable solution that corrects fine lines and wrinkles by easing facial muscles. The neuromodulator has other medical applications as well, but its popularity resides mainly in its ability to smooth away bothersome creases.
Do you want your crow's feet to fly away? Are you ready to get serious about laugh lines? Unfurrow your brow and contact Metamorphosis Plastic Surgery at your earliest convenience. Even though our name connotes mastery in the field of aesthetic surgical procedures, we also specialize in minimally-invasive procedures such as Botox injections.
Call (410) 465-3600 to discuss the treatments that will accentuate your natural attractiveness. Dr. Daniel Markmann is an unparalleled expert in all things enhancement. He proudly serves the needs of the greater Baltimore area from the convenience of our Ellicott City, Maryland office. We also provide virtual consultations to meet your complex needs and complement your busy lifestyle.
What Causes Wrinkles?
To adequately describe the aging process, let's try a demonstration. Look at yourself in the mirror (or smartphone screen, if that's more convenient). Now squint, frown, and smile to your heart's content. Do you see how every expression creates a different set of facial lines? These creases correspond to the activity of the fine musculature lining your appearance.
In order to halt the persistent tugging of the skin due to muscular contractions, we must relax wrinkles at their source. Botox is a neuromodulator, meaning that it disrupts tension at the neural junction. Every time your muscles clench, it is due to the release of acetylcholine from the nerves. By blocking the flow of acetylcholine, Botox allows you to only make the expressions you want to make rather than succumbing to involuntary muscular activity.[1] [2]
When muscles relax, your face ushers in a new era of serenity and smoothness. The results of Botox can endure for 4-6 months, allowing you to project your best self throughout the duration of your treatment.
Therapeutic Uses for Botox Cosmetic
The powerful formula of Botox has provided an aesthetic boost for millions of people around the world, but its residual benefits have also proven to be groundbreaking. Individuals struggling from migraine distress may be able to enjoy relief from pain for months at a time, courtesy of Botox.[3] By targeting the nerve clusters responsible for migraine trauma, Botox paves the way to a brighter tomorrow.
Another condition that confounded experts for years is hyperhidrosis, or excessive sweating. Botox changed the way doctors treated hyperhidrosis, proving to alleviate sweating for 4-7 months at a time.[4]
Benefits of Botox
In addition to the numerous applications outlined above, Botox supplements a more intangible measure: quality of life. When wrinkles, perspiration, and migraines are reduced, confidence may soar higher than ever.
The Food and Drug Administration (FDA) has approved Botox for cosmetic use due to its safe, absorbable chemical composition. The human body integrates Botox seamlessly into its physiology, producing natural-looking results for its recipients. To explore the benefits of Botox for yourself, contact us online.
Eligible Candidates
If you are dissatisfied with the way fine lines affect your expression, then you may be a prime candidate for Botox injections. The neuromodulator is ideal for the treatment of glabellar lines, also known as "11" lines because of their resemblance to the number 11. Glabellar lines appear on the forehead between the eyebrows.
You may not be eligible for Botox if you have been stricken with botulism recently. Neural disorders like amyotrophic lateral sclerosis, also known as Lou Gehrig's disease, may preclude you from qualifying for botulinum toxin (Botox) injections. Dr. Markmann and his team can determine your candidacy for Botox treatment during your comprehensive consultation.
Private Consultation with Metamorphosis
Pop quiz: what's the difference between cosmetic and plastic surgeons? If you don't know the answer off the top of your head, maybe you should visit our blog. It's full of insights and information regarding the best enhancements offered in Baltimore and beyond. Feel free to read through our posts and bring any questions that may arise to your consultation.
Your Metamorphosis Plastic Surgery professional will assess your skin tone and aesthetic needs. From there, we can recommend the best strategy to address whichever issues bother you most. If Botox is the right approach, we may proceed with a session immediately following your consultation. On the other hand, if another option would be more beneficial, we can discuss the full array of choices at your disposal. Call (410) 465-3600 to schedule an appointment and be ready to share your medical history and future goals.
Preparation
The Botox injection process is so straightforward, you may be ready for your first session immediately. It is optimal for you to refrain from taking blood-thinners for a week prior to treatment to minimize the risk of bruising. You should also avoid smoking, as tobacco products accelerate the aging process. Smoking is counterproductive to the very rejuvenation that Botox provides.
Botox Procedure
From the moment you arrive at Metamorphosis Plastic Surgery, you will be pampered like the royalty you are. A medical professional will escort you to the private room where you will receive your Botox injections. The solution is administered through ultrafine needles. The Botox is placed precisely at the root of wrinkles, lessening their severity and disrupting the formation of new lines.
The duration of a Botox session varies, depending on how many units you require to produce the results you desire. If you wish to treat more than one area, that will also contribute to the length of your visit to Metamorphosis Plastic Surgery. In general, a Botox treatment takes about 20-30 minutes, making it a "lunchtime" procedure. You will be able to resume your everyday activities once the Botox injections are complete.
Rapid Recovery
Aside from minor redness and mild swelling at the injection sites, there are very few side effects associated with Botox treatment. Dr. Markmann can advise you regarding ice packs or other methods to alleviate any discomfort you might experience.
Remarkable Results
The benefits of Botox may take 4-7 days to emerge. You will notice a gradual easing of the muscles that cause laugh lines, frown lines, and other unwanted creases. The rewards from Botox may last a full six months, but please do not hesitate to stay in touch with your Metamorphosis Plastic Surgery team. We can recommend a touch-up session after four months if you are noticing the results starting to diminish.
To get a glimpse of your future satisfaction, check out our glowing reviews. Dr. Markmann provides world-class treatments from the convenience of Ellicott City, Maryland. To join the ranks of his happy, healthy clientele, call (410) 465-3600.
Complementary and Alternative Procedures
One of the beautiful features of Botox is how well it pairs with other procedures. Since enhancement is not a "one size fits all" endeavor, you should explore the full suite of options available in our Baltimore area clinic.
Injectable Fillers
Wrinkles have more than one root cause. In addition to the muscular tension described above, sagging also contributes to fine lines and creases. To add volume to depleted features, consider the benefits of injectable filler treatment. Solutions like hyaluronic acid, fat transfers, and collagen stimulation can bolster the skin from within. Cheeks enjoy more fullness, lips pout more dramatically, and skin becomes smoother when it is properly plumped.
FaceTite
To tighten the skin along the face, turn up the possibilities with radiofrequency-assisted liposuction (RFAL). FaceTite technology delivers precise, targeted waves of energy to loosen and remove small pockets of fat while bringing a taut, lifted quality to the skin.
Facelift
When skin laxity is more pronounced, a simple filler or tightening session may not suffice. For comprehensive enhancement, look no further than a facelift from Dr. Markmann. He can gently remove excess and redundant skin along the hairline to elevate your expression in a subtle yet striking manner.
Regardless of which of the aforementioned procedures work best for your appearance, Metamorphosis Plastic Surgery is the premier destination to unleash the new you. Contact us soon to schedule an appointment with Dr. Markmann.
FAQ
How much does Botox cost in Baltimore?
The cost of Botox depends on how many units of the solution you need to achieve your ideal results. Dr. Markmann will provide transparent pricing as part of your comprehensive consultation. In the meantime, feel free to visit our financing page to learn more about our credit and payment options. 
References