Brow Lift
Conveniently located to serve the areas of Baltimore, Columbia, Ellicott City and Maryland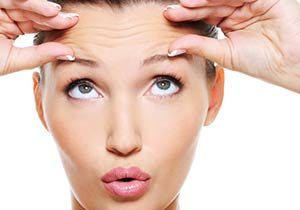 A brow lift, also called a forehead lift, is a procedure that corrects sagging eyebrows. The surgery raises upper facial features to give patients a more alert and youthful disposition.
Maturity can be uplifting, but age generally weighs down certain features. Skin loses its elasticity over time due to the body's decreased production of collagen. When the tissue along the upper face becomes too excessive to perk up, surgery may be the best solution.
Board-certified Baltimore surgeon Dr. Daniel Markmann works with patients who are bothered by expression lines and other signs of aging in the brow region. By gently removing excess skin and creating a tighter, taut appearance, Dr. Markmann customizes his brow lift technique to your anatomy and goals. The brow lift procedure also repositions low brows that may obscure the upper eyelids. To benefit from Dr. Markmann's expertise, please contact his office in Ellicott City, Maryland. 
Conveniently located to serve the needs of greater Baltimore and beyond, Metamorphosis Plastic Surgery is your premier destination for facial rejuvenation. If you are unable to visit us in person, we offer virtual consultations. No matter where you log on, Dr. Markmann wants to make eye contact with you. 
About Facial Enhancement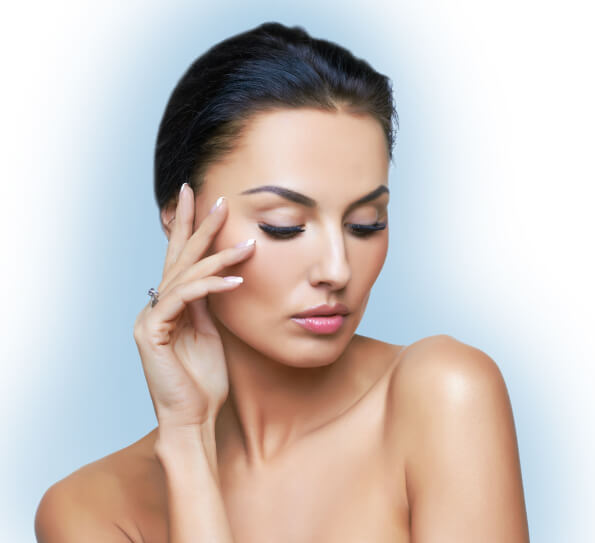 The skin is simultaneously vulnerable and powerful. It protects us from the elements, but it can get damaged by those very elements in the process. Photoaging is the term for sun damage to the skin. When ultraviolet rays deplete moisture from skin cells, it leaves the complexion looking leathery and wrinkled.
Nowhere is the aging process more apparent than along the forehead. Fine lines evolve into creases in our later years. Hydrating lotions can only preserve the skin to a certain degree. When sagging and laxity become too much for your brow to bear, call Metamorphosis Plastic Surgery. You can reach our friendly, knowledgeable team at (410) 775-8312. Together, we can determine if a brow lift will address your concerns and accentuate your best features.
Benefits of a Brow Lift
Targets the precise area along the upper face where wrinkles may prematurely accumulate
Brings balance to the brow by redraping the skin according to its youthful dimensions
Corrects ptosis (sagging) of the tissue above the eyes, aiding clearer vision
Raises confidence along with your profile
To experience the benefits of a forehead lift for yourself, please contact Metamorphosis Plastic Surgery at your earliest convenience. 
Eligible Candidates
If you are dissatisfied with the look or feel of your upper face, a brow lift may be the perfect solution for you. The ideal candidates for this procedure are those who are in good physical health and have realistic expectations for their facial rejuvenation. Dr. Markmann can assess your skin laxity during a thorough physical examination to determine your eligibility for plastic surgery.
Private Consultation in Baltimore
The first step in any great collaboration is communication. Dr. Markmann is eager to hear how he can help bring your aesthetic goals to life. Please be ready to share your medical history and future aspirations so that Dr. Markmann can create a brow lift strategy accordingly. If a brow lift is not the ideal solution to your cosmetic needs, the doctor will present other options to celebrate your best self.
In a continued effort to communicate our dedication to the greater Baltimore community, we regularly update our blog. Feel free to peruse our posts and bring any questions that may arise with you to the consultation with Dr. Markmann.  
Preparation
When you leave your comprehensive consultation, you will be given a list of detailed instructions to prepare you for the brow lift procedure. Please follow these directions closely. They will be tailored to your anatomy and goals, because every surgery is as unique as each patient.
In general, it is advisable to quit smoking at least three weeks before any invasive procedure. You may also be asked to stop taking certain medications that thin the blood. Dr. Markmann wants your circulation to be at peak performance to minimize bruising and maximize success.
Brow Lift Procedure
Dr. Markmann is an expert at concealing his incisions artfully. The exact placement of your incision will depend on the extent of your sagging skin and the location of your hairline.[1]
Dr. Markmann may opt for a classic incision, which is located on the upper eyelid, or a coronal incision, which runs underneath the patient's hair from ear to ear. An endoscopic brow lift may offer a less invasive treatment.
Coronal Brow Lift
Corona is Spanish for crown. You will feel like royalty after a coronal lift at Metamorphosis Plastic Surgery. The procedure begins with a gentle incision at the hairline (or crown). The hair hides the scar because the incision runs a few inches above the patient's hairline from ear to ear. Dr. Markmann repositions the eyebrows by pulling the muscles up to correct their tired, aging appearance. With the coronal incision technique, Dr. Markmann also shifts the hairline higher. The results are subtle, just enough to correct the droopy eyelids. Dr. Markmann avoids the "severely lifted" look, which would result in a wide-eyed, shocked appearance.
Eyebrow Incision, aka Direct Brow Lift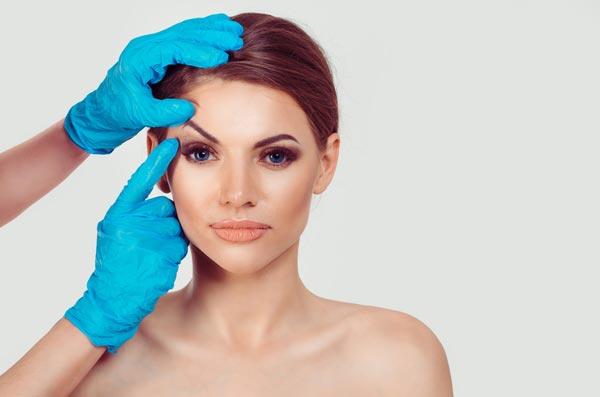 For patients whose hairline is receding or thin, a coronal lift may not work. Instead, Dr. Markmann can place the incision along the natural upper crease of the eyelid itself. Alternately, he can conceal the incision along the hair of the eyebrows. Dr. Markmann then trims away excess skin and tightens the remaining tissue to create a rejuvenated facial appearance.[2] The underlying structures will be reattached to the brow bone with sutures. Dr. Markmann may also use tiny fasteners, placed internally, to help the muscles cling and heal into a new position. 
Endoscopic Brow Lift
An endoscopic brow lift procedure begins with several small incisions, no longer than an inch, made close to the hairline.[3] Dr. Markmann inserts a tiny camera at the end of a thin tube to allow him to operate via a nearby monitor. He maneuvers other tubes to perform the necessary surgical steps that will correct the sagging, wrinkling issue along the brow. Dr. Markmann places sutures underneath the skin to help lessen scarring. The endoscopic technique is quicker compared to classic brow lifts, hence downtime is reduced.
Healthy Recovery
Dr. Markmann performs the brow lift procedure under general anesthesia at an accredited surgical facility. The process can last between 1 to 2 hours. Dr. Markmann advises patients to limit movement for up to 2 days. Patients may experience some minor bruising and swelling on adjacent areas of the face, such as the cheeks.
It is quite normal to feel as though your face is out of symmetry until you have fully healed. You may be able to resume your everyday routine within a week, but please avoid strenuous activities as they may impede healing.
Amazing Results
Dr. Markmann performs a brow lift procedure to give you a fresh and youthful appearance. The results are subtle enough so that the face doesn't look surgically treated. An experienced facial surgeon thoroughly understands the underlying structures of the brow to create results that are natural looking. To get a glimpse of Dr. Markmann's stellar work, please visit our reviews page.
Complementary and Alternative Procedures 
A brow lift is typically performed in conjunction with other procedures, such as eyelid surgery, skin resurfacing procedures, and facelifts.
To experience a non-surgical lift, consider the benefits of Botox Cosmetic. This neuromodulator targets forehead wrinkles and smooths out fine lines. However, Botox does not correct drooping of the skin folds around the eyes. Depending on your case, Botox is worth trying initially to see if it satisfies your aesthetic goals. If you do not experience the lift you desire, then a brow lift may be your logical next step. Many patients benefit from a combination approach using surgery and Botox to achieve the best outcome.
FAQ
How much does a brow lift cost in Baltimore?
The cost of your brow lift depends on the extent of your ptosis (sagging) and the surgical technique used. Dr. Markmann will provide transparent pricing during your comprehensive consultation. In the meantime, check out our financing page or call (410) 775-8312 with questions.
What is the difference between a brow lift and a facelift?
Dr. Markmann will evaluate your facial dimensions and recommend the best approach. A brow lift is confined within the upper area of the face. A facelift, on the other hand, also improves the appearance of the lower face, including the cheeks and the chin. Depending on the severity of facial sagging, a full facelift may be a more beneficial approach.
Does a brow lift leave visible scars?
Dr. Markmann skillfully places his incisions under the hair or along the natural creases of the face. His techniques minimize scarring and maximize enhancement. To learn more about Dr. Markmann's innovative approach to brow lift surgery please contact our Baltimore area office.
References
Elkwood, A., Matarasso, A., Rankin, M., Elkowitz, M., & Godek, C. P. (2001). National plastic surgery survey: brow lifting techniques and complications. Plastic and reconstructive surgery, 108(7), 2143-50. PMID: 11743421
Booth, A. J., Murray, A., & Tyers, A. G. (2004). The direct brow lift: efficacy, complications, and patient satisfaction. British Journal of Ophthalmology. 88 (5) 688-691. http://dx.doi.org/10.1136/bjo.2003.019232
Jones, B. M., & Grover, R. (2004). Endoscopic Brow Lift:: A Personal Review of 538 Patients and Comparison of Fixation Techniques. Plastic and Reconstructive Surgery. 113 (4) 1242-1250. DOI: 10.1097/01.PRS.0000110206.25586.78