Male Aesthetic Enhancement
Conveniently located to serve the areas of Baltimore, Columbia, Ellicott City and Maryland
What Is Male Aesthetic Enhancement?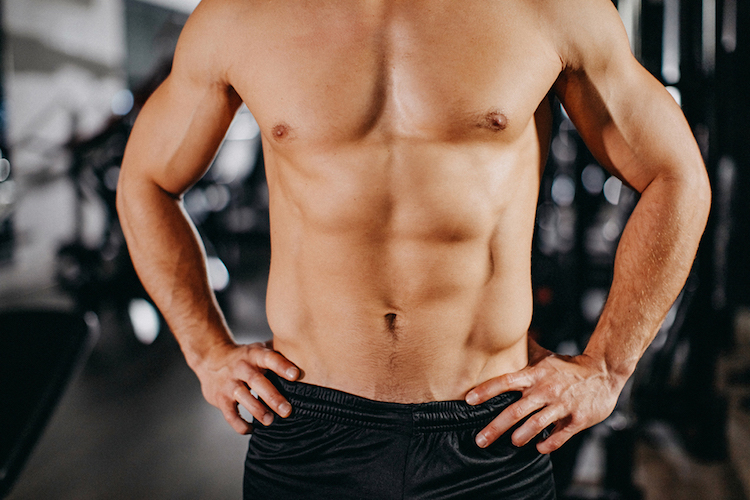 Male aesthetic enhancement is an overall series of aesthetic and cosmetic treatments that address various issues in men's bodies and faces. These treatments vary in price and can range from invasive to non-invasive.
Until recently, cosmetic surgery was associated almost exclusively with women.[1] In general, the beauty trends amongst men tend to be overlooked.[2] But with the advent of the internet and social media, the whole industry has become demystified for an entire section of the population.
There are numerous reasons why men would seek aesthetic enhancement, but it's often meant to address cosmetic imperfections and signs of aging. This may come as a bit of a surprise, but men can get insecure about their looks too! Luckily, there is a vast range of options to address uniquely masculine complications.
But no matter what gender you identify as, you deserve the very best treatment possible. That's why we're proud to provide everyone with top-notch care at the Metamorphosis Plastic Surgery & MediSpa—conveniently located to serve the areas of Baltimore, Columbia, Ellicott City, and Maryland.
Click here to schedule a consultation or call us now at (410) 465-3600.
Metamorphosis: Providing the Best Results and Treatments Possible, Not the Cheapest!
Male Aesthetic Treatments Offered at Metamorphosis
Male Breast Reduction
A male breast reduction is a surgical procedure meant to address swollen male breast tissue. The medical community refers to this condition as gynecomastia. It's jokingly referred to in derogatory terms, such as having "man boobs." A hormone imbalance often causes this condition. Although not life-threatening, this condition can cause severe psychological distress in men. Thankfully, gynecomastia surgery offers a solution. Studies have proven that gynecomastia surgery significantly improved men's life quality in all aspects, especially in social and psychical health.[3] It is advised you try to lose weight until you are at your ideal baseline before pursuing gynecomastia surgery.
Six-Pack Abs
Six-pack abs are attainable through a surgical technique called abdominal etching. Sometimes, you simply can't achieve your muscular definition no matter how hard you diet or exercise. With abdominal etching, men gain a more visible, sexy, defined six-pack by using their own fatty tissues. Studies have proven that abdominal etching is a safe and effective method of creating a defined anterior abdominal wall for patients who desire the muscular definition of vertical abdominal lines.[4] A shredded core is within reach; you just have to work hard and smart to get one.
Before & After Photos
Before and After Photos
Benefits Of Male Aesthetic Enhancement
More youthful appearance
Increased confidence
Better sex life
Better social life
Added vitality
More proportional figure
Aesthetically pleasing
Better fitting clothes
Candidates
The ideal candidate for aesthetic enhancement is a non-smoking, healthy man who is in relatively decent shape but is still unsatisfied with how their body looks.
No matter what your reason is for pursuing male aesthetic enhancement, it's a valid one. So long as that reasoning is based on what you want, not what society or a loved one wants. Do it for you.
Personal Consultation
Every medical procedure starts off with your personal consultation to determine whether you are qualified for surgery. You and Dr. Markmann will discuss your goals and expectations for your body. Despite all the advances in technology, it is essential to be realistic about your intended outcome. Surgical procedures are very serious, so you and your doctor must be on the same page. Your consultation should clear up any doubts or questions you may have. Dr. Markmann is board-certified and will customize your treatment for the best results possible.
Procedure
Male Breast Reduction
After administering general anesthesia, Dr. Markmann will begin to sculpt, mold, and tighten your chest through lipo techniques. Depending on your treatment level, incisions may also be made under the areola to remove excess volume. Surgery can last up to an hour.
Six-Pack Abs
Before the procedure, detailed markings are made of the patient's flexed abs. During surgery, Dr. Markmann will make small incisions within the abdomen's natural contours to minimize scarring. Through the incisions, fat is removed in some areas, thinned in others, and rearranged to accentuate the ab muscles and the vertical lines that accompany them.
Recovery
Male Breast Reduction
Patients must wear a compression garment for about two weeks to help with reshaping and healing. Most patients can return to their routine after a few days but should avoid any strenuous physical activities, especially ones that will put pressure on the chest.
Six-Pack Abs
There will be some swelling and bruising in the abdomen. Patients should wear a compression garment for 3-6 weeks. Most patients can resume a regular work schedule within one week and incorporate exercise within three weeks. Patients should notice the full effect of surgery within six months.
Results
Overall, male aesthetic enhancement and other complementary treatments result in a more pleasing, proportional figure and face. The results inspire confidence in the patient, making them feel just as attractive as they look.
Complementary Procedures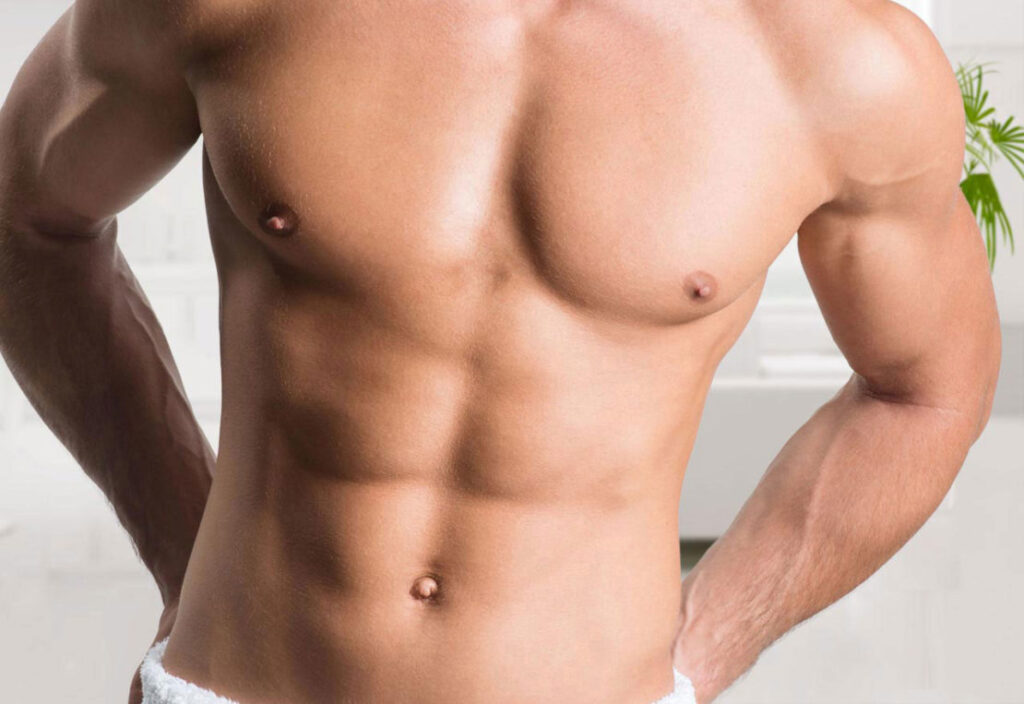 It's the dawn of a new age. "Getting work done" has become less of a stigma as surgical and non-surgical procedures have become the norm for both sexes. As the years go on, more advanced treatment options become available, not just for our female clientele but for anyone.
Some other procedures to consider along with your male aesthetic enhancements are:
Botox
Botox is a neuromodulator that softens wrinkles to create a more youthful appearance. Botox isn't just for women; men have been getting Botox treatments in ever-increasing numbers. Its popularity seems endless. Botox offers a minimally invasive approach to improving facial lines and is often the first cosmetic procedure chosen by male patients.[5]
Liposuction
Liposuction is a procedure that removes fat using a device that loosens and suctions out fat cells from the body permanently. Liposuction is another procedure that gets pointlessly gendered. Men can get lipo too! Fight the onset of dadbod with ease and fit into your old jeans.
Blepharoplasty
Blepharoplasty is a surgery that corrects any eyelid imperfections. It is also known as an eyelid lift. Rejuvenate your face and remove bags from under your eyes! You're not tired; you just look like it.
Laser Skin Resurfacing
Laser skin resurfacing is a skincare program that uses lasers to treat skin conditions and remove wrinkles, spots, and other aging signs.
The future is now. With the power of lasers, we can defeat aging!
IPL Photo Rejuvenation
IPL photorejuvenation is another form of skin resurfacing that uses intense pulsed light to cleanse the skin of defects and impurities.
Microdermabrasion
Microdermabrasion is a type of surgical skin planing process used to renew overall skin tone and texture. It utilizes a unique applicator with an abrasive surface to gently sand away the skin's thick outer layer to rejuvenate it.
Otoplasty
Otoplasty is a surgery that aims to correct any flaws or disfigurements of the ear. Otoplasty provides men with a solution to unruly ears.
Rhinoplasty
Rhinoplasty is a surgical procedure that aims to correct any imperfections in the nose. You may not be the center of the universe, but your nose is at the center of your face. Make it more proportional and harmonious with your other features.
If you've enjoyed what you've read so far, come and check out the Metamorphosis blog! You'll discover great content relating to medical advice, do's and don'ts, and much more. We hope to see you soon.
FAQ
What Is Male Aesthetic Enhancement?
Male aesthetic enhancement is any treatment used to address cosmetic issues in men. 
What Is Gynecomastia?
Gynecomastia is the medical term for swollen male breast tissue caused by hormone imbalance. 
Does Gynecomastia Hurt?
There will be some pain, swelling, and discomfort following gynecomastia surgery.
What Is Abdominal Etching?
Abdominal Etching is a liposuction procedure that sculpts and enhances the waistline, creating six-pack abs.
Does Abdominal Etching Hurt?
Most people experience very little pain. However, there is some mild swelling and bruising afterward, but this is normal when the body is recovering.
Can Men Get Botox?
Yes, men can get Botox. Men have been getting Botox treatments in increasing amounts over the years, and this trend shows no signs of slowing down. 
Does Botox Hurt?
There may be some initial pain from the injection, but that will quickly subside.
References