Breast Enhancement
Conveniently located to serve the areas of Baltimore, Columbia, Ellicott City and Maryland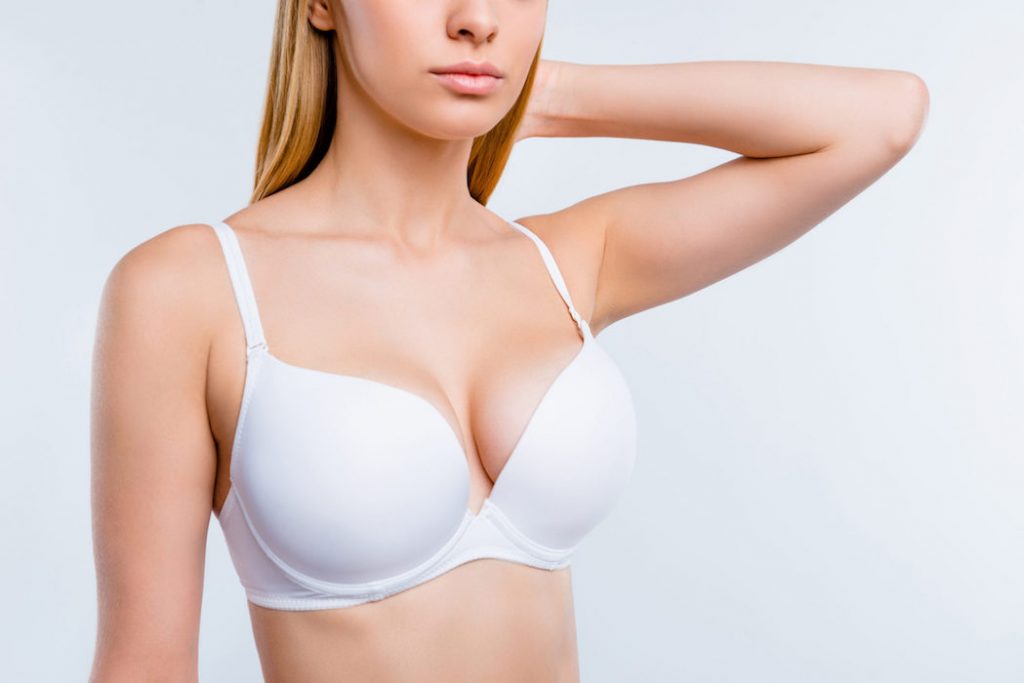 A breast enhancement is a cosmetic procedure that improves the way a woman experiences life with her breasts. Every woman deserves to feel beautiful, and enjoy every inch of her femininity. However, many women feel that this important aspect of their lives is compromised.
Women with overly large breasts can suffer from chronic pain and a daily onslaught of unwanted attention. Pregnancy, breastfeeding, and the natural march of time can also leave women's breasts in precarious positions. Other women long for the curves and fullness that they feel is lacking. Luckily, all of these concerns can be resolved with a breast enhancement procedure.
At Metamorphosis Plastic Surgery, Dr. Daniel Markmann performs breast lifts, breast augmentations, and breast reductions to help women feel delighted with their bustline.
Dr. Markmann has over 25 years of experience performing surgical procedures that help his patients feel their very best. If you're interested in learning more about how to achieve your best chest, call our offices today at (410) 465-3600. Or, visit our contact page to schedule a personal consultation with Dr. Markmann. We're conveniently located off The Baltimore Pike to serve the Baltimore, Ellicott City, and Columbia areas.
Before and After Photos
Breast Enhancement Procedures
Breast Augmentation
Breast augmentation procedures upgrade the shape and size of the breasts. It's the second most popular cosmetic procedure in the United States. Advances in augmentation techniques and breast implants have made this procedure safer than ever. (1) Dr. Daniel Markmann performs breast augmentation using silicone and saline implants, including the popular Sientra Gummy Bear implants. He also performs augmentation using fat grafting, which can offer subtle, realistic results. After using liposuction to remove unwanted fat from the patient's body, it can be introduced into the breast for extra volume. This procedure can also be combined with implants for a natural-looking, customized shape.
Breast Augmentation and Lift
For some women, achieving a larger bustline is only half the battle. Women that are looking to increase volume but experience skin laxity greatly benefit from a breast lift and augmentation. This winning combination ensures that the beautiful new set of breasts are located in a youthful, lifted location. Areolas can be resized and oriented in an appealing and pert position on the chest. These procedures can be performed at the same time, so women can enjoy a full transformation with only one recovery.
Breast Lift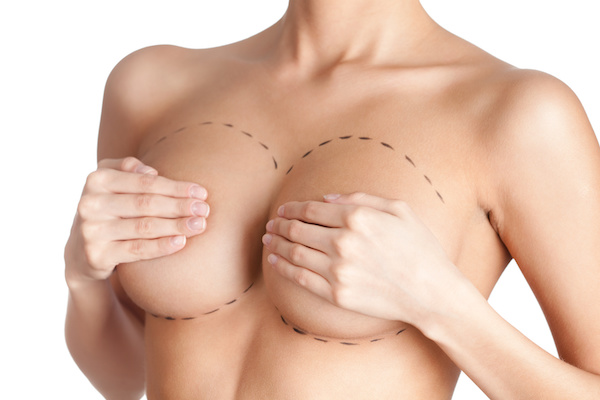 A breast lift is a little or a large pick-me-up for the breasts that can transform the patient's overall profile. Pregnancy and breastfeeding, weight fluctuations, and aging can change the shape and position of the breasts. This procedure removes excess skin to give breasts a firmer, lifted appearance with higher projection. Depending on the degree of ptosis, or sagging, that a woman is experiencing, the procedure and incisions will be chosen accordingly. Incisions can either encircle the areola or continue down the center of the breast. The areola can also be re-sized and repositioned for an overall perkier and rejuvenating effect. This procedure has rapidly grown in popularity, and The American Society of Plastic Surgeons has reported that the number of breast lifts has increased by 70% in the past 2 decades. (2)
Breast Reduction
Breast reduction reduces the size and weight of breasts. For women who struggle with large, unwieldy breasts, this surgery can reduce shoulder, neck, and back pain. A breast reduction can also improve body image, self-confidence, and posture. The positive effects of this surgery have been documented in several studies, but women who have had this procedure can attest to the benefits it has had in many aspects of their lives. (3) Dr. Markmann will design your breast reduction so that your lovely lighter breasts complement your unique proportions.
Vectra 3D Imaging
One of the many advantages of choosing Metamorphosis Plastic Surgery is our VECTRA XT 3D Imaging system. This system uses cutting-edge technology to create a high-definition 3D rendering of your body, which can then be altered to show exactly how you would look after a breast enhancement surgery. VECTRA XT 3D Imaging takes the guesswork out of choosing the right implant size. It also allows patients to "try on" different breast sizes so that Dr. Markmann can tailor your procedure to address your specific desires.
Benefits
Breast enhancement can be a life-changing experience. Whether women choose to undergo an augmentation, lift, combination of both, or reduction, these procedures can restore balance to the body and peace of mind. This high-profile part of a woman's anatomy is a culturally treasured symbol of allure. We spend so much time enhancing other aspects of our appearance. A breast enhancement procedure can ensure that patients feel comfortable in their bodies, and relish this beautiful part of female sexuality. Choosing to undergo any surgical procedure is an important decision, and VECTRA XT 3D Imaging ensures that our patients make an educated and exciting decision. To learn more about other services that Metamorphosis Plastic Surgery offers, follow our blog.
Candidates for Breast Enhancement
Women who are considering a breast enhancement should be well-informed about the details of the procedure, recovery, and results. At Metamorphosis Plastic Surgery, we do all that we can to make sure that our patients are prepared and comfortable with their decision. Breast enhancements procedures, whether a lift, augmentation, or reduction, are surgically invasive. Candidates should be willing to commit to following guidelines to guarantee that they have the best possible outcome.
Ideal candidates should:
Live a healthy lifestyle
Be at a stable weight
Be aware that smoking or a history of smoking greatly increases the risk of complications during and after surgery
Dedicated to aftercare instructions and rest for a successful recovery
Have realistic expectations for their results
Personal Consultation
Dr. Markmann is ready to help you look and feel your best. When you come into our Ellicott City office, you'll experience a welcoming and professional environment that will put you at ease. Your personal consultation is an opportunity to learn more about a breast enhancement procedure and ask any burning questions that you may have. Dr. Markmann will review your medical record and discuss your lifestyle and aesthetic goals. Once he's determined that you are a good candidate for a breast enhancement procedure, you'll be able to see your new set of breasts on our VECTRA XT 3D imaging system!
Dr. Markmann and his helpful staff will make sure that you understand all the details of your procedure and are perfectly prepared for your surgery and recovery process. If you're ready to get started on your transformation, contact Metamorphosis Plastic Surgery to book your personal consultation.
Recovery
Your recovery will depend on the type of breast enhancement you've chosen and the extent of your surgery. Every body heals at its own unique pace.
It's crucial that patients prepare adequately for their recovery process. Expect to take a week or two to rest after your breast enhancement.
However, whether a patient undergoes a breast reduction, lift, augmentation, or gynecomastia procedure, it's essential that they make the proper preparations for their recovery. Several days to a week of rest will be required. Patients should also ensure that they have someone to drive them home from their procedure and provide assistance for at least the first day afterward.
After your breast enhancement procedure:
You'll be given long-acting local anesthesia and prescription pain medications to manage discomfort. Dr. Markmann may also recommend a pain pump.
Follow instructions regarding the use of your special postoperative garment to ease swelling and suture care
Attend all of your follow-up appointments so that we can monitor your progress
Take short walks to maintain healthy circulation
Abstain from vigorous activity or exercise for 6 weeks.
Results
Depending on the kind of breast enhancement you've chosen, you may notice an immediate difference after your surgery. The best is yet to come! Swelling may take a few months to fully subside. Scars will slowly regress and fade. Maintaining a healthy lifestyle during and after your recovery will ensure beautiful results that last for many years following your procedure. 
How Much Does Breast Enhancement Cost in Baltimore?
The cost of your breast enhancement procedure will depend on the procedure(s) being performed. The details of your procedure will be customized to complement your unique anatomy and meet your aesthetic desires. This will also impact the price of your reduction, lift, augmentation, or lift with augmentation. However, honesty is key at Metamorphosis. Dr. Markmann will be able to give you an accurate estimate for the cost of your procedure following your personal consultation. 
References
Coombs DM, Grover R, Prassinos A, Gurunluoglu R. Breast augmentation surgery: Clinical considerations. Cleveland Clinic Journal of Medicine. 2019;86(2):111-122. doi:10.3949/ccjm.86a.18017
Ramanadham SR, Rose Johnson A. Breast Lift with and without Implant: A Synopsis and Primer for the Plastic Surgeon. Plast Reconstr Surg Glob Open. 2020;8(10):e3057. Published 2020 Oct 28. doi:10.1097/GOX.0000000000003057
Karaaslan O, Demirkiran HG, Silistreli O, et al. The effect of reduction mammaplasty on the vertebral column: a radiologic study. ScientificWorldJournal. 2013;2013:701391. Published 2013 Aug 25. doi:10.1155/2013/701391