Qwo
Conveniently located to serve the areas of Baltimore, Columbia, Ellicott City and Maryland
Qwo is the first FDA-approved injection to treat cellulite on the buttocks. Cellulite has long been an aesthetic concern without viable treatment options.. Various treatment methods have helped to temporarily improve cellulite's pockmarked appearance, but few have yielded promising results. This is due in large part to the fact that cellulite is still a medical mystery. While we know how the soft tissue structures give cellulite its dimpled appearance, we don't know the exact cause. But, with Qwo, we now have an FDA-approved solution to smooth away cellulite's dimples, for a smoother, blemish-free bottom.
Dr. Daniel Markmann and his team of aestheticians at Metamorphosis are proud to debut Qwo to their Baltimore clientele.
If you are looking for a simple, non-surgical remedy for your cellulite, schedule a consultation. To speak with us directly, call our front desk at (410) 465-3600.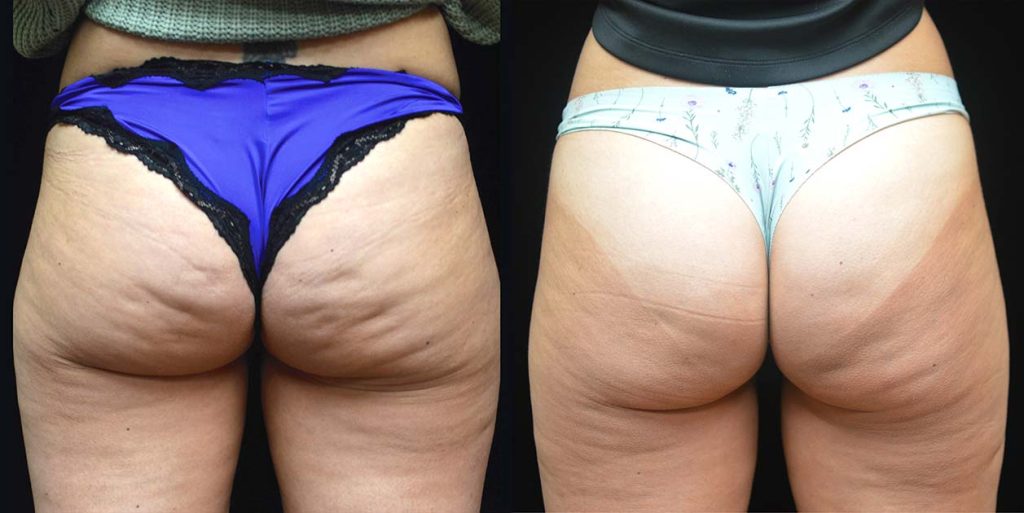 What Causes Cellulite?
We know that cellulite is a hormonal and gender related condition, as it affects 98% of women commonly affects women who have gone through puberty. Compared to women, only a small percentage of men experience cellulite. This division between the sexes is thought to be caused by estrogen's catalytic role in cellulite's formation. After all, most women see an increase in cellulite during puberty, pregnancy, and menopause.[2]
Under your skin, tethering your dermal tissue and muscles together, are thick connective bands called fibrous septa. In men, these bands are horizontal. In women, they're vertical. Between the muscle and the skin is a thin blanket of fat. Because women's fibrous septa are vertical, the subcutaneous fat gets compressed between the skin and muscle. This compression creates cellulite's signature "orange peel" appearance.[3] Many assume that cellulite is caused by excess fat, poor diet, or lack of exercise. But really, cellulite is created because of how a woman's soft tissue is structured. This is why even with improvements in diet and exercise, most women see little changes in their areas of cellulite.
The Qwo Advantage
Qwo uses collagenases clostridium histolyticum-aaes (CCH) to disrupt the vertical fibrous septa and allow the subcutaneous fat cells to spread evenly under the skin. CCH is a naturally occurring enzyme that releases tension from the fibrous septa bands. When the bands are broken down, the fat cells are no longer squeezed against the skin. So, the signature pockmarked appearance fades away. One 2021 study found that women found satisfactory results after only two Qwo treatments.[4]
Benefits
Qwo comes with more advantages than just a smoother backside.
Minimal Procedure
Qwo is a simple procedure that requires no special preparatory or after-care steps. Other cellulite treatments include lasers, incisions, advanced devices, and involved procedures. Lasers can leave burns, incisions can leave scars, advanced devices can be expensive, and involved procedures can take up your whole day! But with Qwo, you simply lie down in a private treatment room before an aesthetician strategically administers the CCH solution. Once they have treated each area, you are free to leave our offices. Most Qwo procedures don't last more than 30 minutes. It's the perfect lunchtime procedure that lets you return to your daily routine in no time at all!
Long-Lasting Results
After your Qwo session, you will notice results in the coming weeks. As the fat begins to settle more evenly around your backside, you'll notice the cellulite's appearance gradually fade. Once the fibrous septa bands are broken, it takes a long amount of time for them to regrow. This means you can enjoy your benefits from Qwo for a long time to come! Later down the road, we'll repeat this simple process if cellulite begins to return.
Candidates
If you're interested in seeing the benefits of Qwo for yourself, please schedule a personal consultation at one of our MedSpa locations.
There are two degrees of cellulite: incipient and full-blown. Incipient cellulite is when the backside's dimples are invisible to the naked eye and only become seen when the area is pinched.[5] Full-blown cellulite is when the dimples are apparent without needing a pinch. Qwo is designed to treat both degrees to give one a smooth, blemish-free bum.
Personal Consultation
At your consultation, we will first go over your recent medical history before learning about your desired results. Many patients schedule a consultation to discuss more than one cosmetic concern. Qwo is such a simple procedure that we can perform it in tandem with other MedSpa services. Next, we will examine the trouble areas around your backside before giving you a list of preparatory steps. We'll tailor these steps to your personalized treatment plan.
Recovery
Because Qwo doesn't involve extensive after-care steps, it can be seamlessly added to any busy schedule. For the next couple of days, the treated areas may feel a little tender and appear swollen or bruised. To see your desired results, we may need to schedule multiple Qwo procedures weeks apart. After your first Qwo session, we'll be better able to see what your next steps are.
Other Booty-Beautifying Procedures
Qwo is only one of the treatments Dr. Markmann offers to enhance your backside's appearance.
Brazilian Butt Lift
In recent years, a Brazilian butt lift (BBL) has become one of the most popular plastic surgery procedures. A BBL is ideal for patients who would like a more noticeable backside while minimizing stubborn fatty areas around their body. A BBL is a fat transfer procedure. This means that Dr. Markmann begins by locating unwanted fat cells in different parts of your body. These areas include your abdomen, legs, chest, chin, back, or arms. He removes these fat cells using liposuction. Next, he cleanses and readies them for relocation. After injecting them into the special areas around your backside, Dr. Markmann massages the fat tissue to ensure even results.
Gluteal Implants
Gluteal implants are perfect for those who might not have enough excess fat around their bodies for a BBL surgery, but also want that lifted look. These semi-solid silicone implants are strategically placed in each half to give the butt more volume, more projection, and more noticeability. These implants help patients customize their backside contours specifically to their desired results. Years down the road, if the patient feels ready for a change, these implants can be safely taken out, restoring their bodies' natural shape.
How Much Does Qwo Cost in Baltimore?
The cost of your Qwo procedure will depend on your personalized treatment plan. We will need to also factor in how many sessions you'll need to achieve your desired results. If you like to stay up-to-date on the latest and greatest products and procedures in the world of aesthetics, check out our blog. Here, we dive into the critical difference between cosmetic and plastic surgeons, if vitamin C is the key to slowing down aging, and our suite of practical skin care procedures. If you would like to learn about our financing options, check out our financing page. To learn more, give us a call at (410) 465-3600.
FAQ
Are there any other treatments for cellulite other than Qwo?
Other cellulite treatments include various laser technologies, certain liposculpture techniques, and extensive surgical procedures. Some patients might see real, long-lasting results. But many are often met with underwhelming results. However, with Qwo, patients see genuinely smooth skin that lasts for a long time to come. Other procedures will take you through long prep times, involved procedures, and prolonged recoveries. Qwo is performed in as little as half an hour. Afterward, you are free to jump right back into your daily routine. 
Why don't diet and exercise affect cellulite?
When you improve your diet and activity levels, you oftentimes see some noticeable fat loss. However, you might not see much change in the appearance of your cellulite. This is because, while cellulite's dimples are just fat cells, it is how the fat is positioned between the muscle and skin. Because cellulite is a structural problem in your soft tissue, even when you shed fat, cellulite oftentimes persists. 
References