Travel For Surgery in Maryland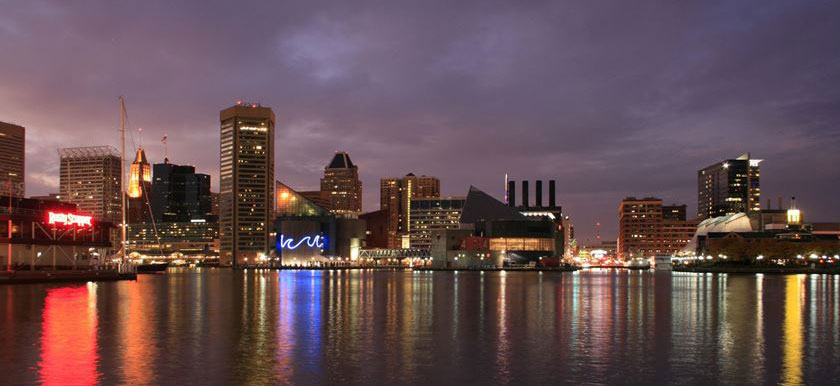 As the largest city in Maryland, Baltimore is home to a diverse group of ethnic cultures buzzing with arts, nature and sporting events. With close proximity to Chesapeake Bay, the Charm City fascinates residents and tourists of all ages. Whether it's a sporting event, historical monument or performing arts center, we encourage our patients to immerse themselves in everything the Baltimore metropolitan area has to offer. While visiting Baltimore for plastic surgery, we hope you can enjoy the beautiful, charming city.
Hotels
Four Seasons Hotel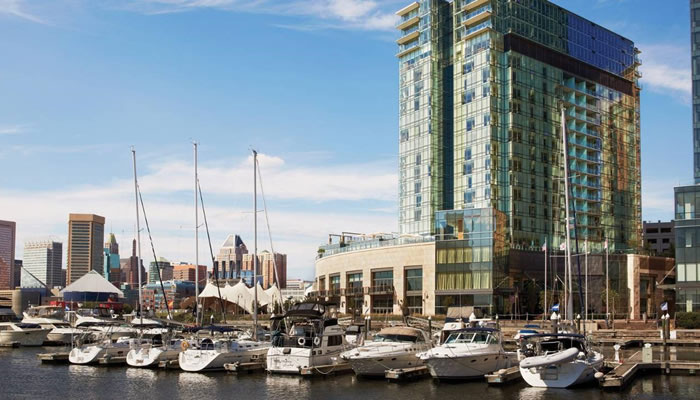 Our staff loves staying at the incredible Four Seasons Hotel in Baltimore. With its sweeping views of the newly renovated Baltimore Harbor and its world-class amenities and services, it is the premier hotel of the Baltimore area. From the historic ships in the harbor to the marble mansions and gleaming skyscrapers, the Four Seasons does a wonderful job of representing the culture of the Northeast. Enjoy the first-rate spa, the multiple pools, the extraordinary fitness center, and much more. To reserve a room, visit fourseasons.com.
Turf Valley Resort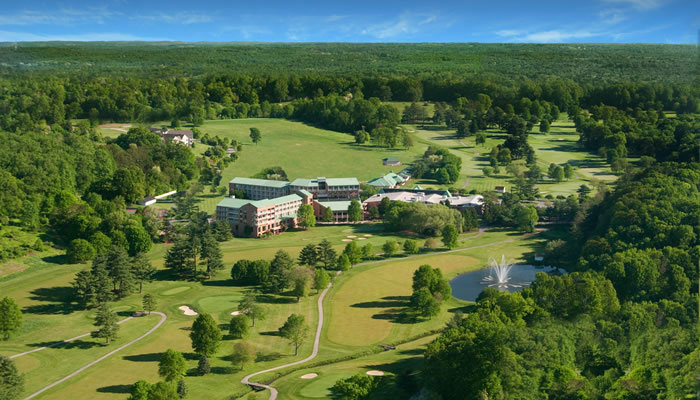 Our staff loves taking weekend retreats to the impressive Turf Valley Resort. With its proximity to Baltimore and Washington D.C., it places guests in a convenient location. Spend your morning on either of the two 18-hole courses, your afternoon at the spa, and your evening in the world-class restaurant. To learn more about the various amenities offered by Turf Valley or to view their spectacular photo gallery, visit turfvalley.com.
Sheraton Columbia Town Center Hotel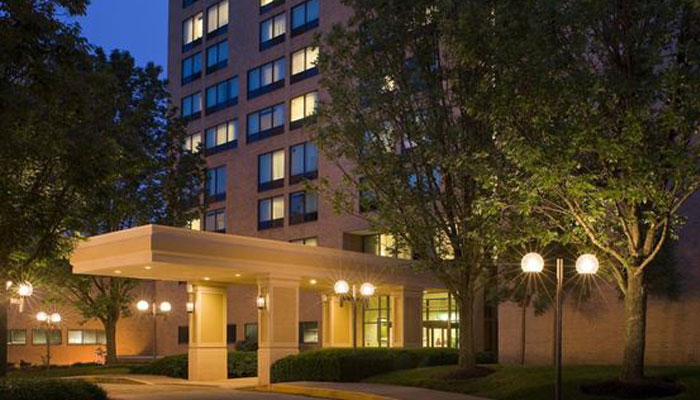 From the tranquil wooded escape to the impeccable service and unbelievable amenities, Sheraton Columbia Hotel is in a league of its own. Our staff believes staying at the Sheraton is an experience all patients visiting from out of town should indulge in. Take advantage of the complimentary shuttle service, outdoor pool, 24-hour guest access fitness center, winding jogging track, and access to the nearby golf course. To learn more about all the Sheraton offers, or to make reservations, visit marriott.com.
Restaurants
Miss Shirley's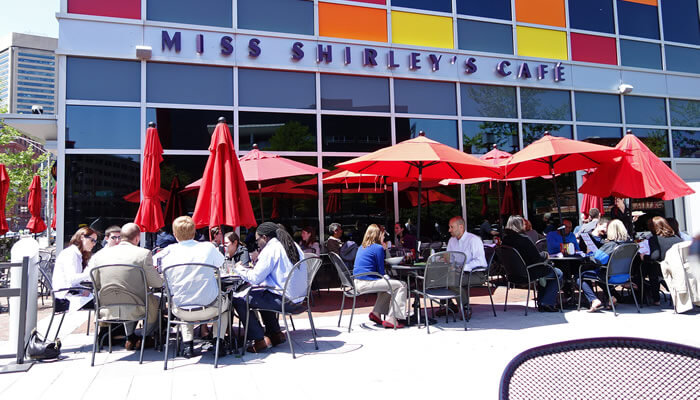 You can find a member of our staff at Miss Shirley's every Sunday for their delicious brunch. It's a unanimous office favorite, and we recommend it every available opportunity. They specialize in southern fundamentals while taking advantage of the abundance of fresh ingredients from the Chesapeake Bay region of Maryland. It is a family-friendly, upscale-casual restaurant known for its energetic and welcoming atmosphere. To view their menu or to learn about the restaurants history, visit missshirleys.com.
RA Sushi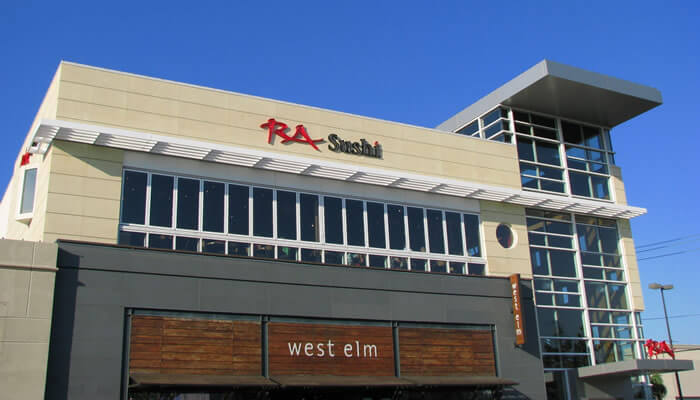 Our staff believes RA Sushi is synonymous with a good time; the two can't be talked about separately. Set in downtown Baltimore, RA Sushi is next to the world-famous nightlife and entertainment venues. Begin your night with RA Sushi's signature rolls or amazing Japanese fusion cuisine coupled with sake, and end it wherever the wind takes you. To view all of the unique, exotic sushi rolls and Japanese cuisine, visit rasushi.com.
Copeland's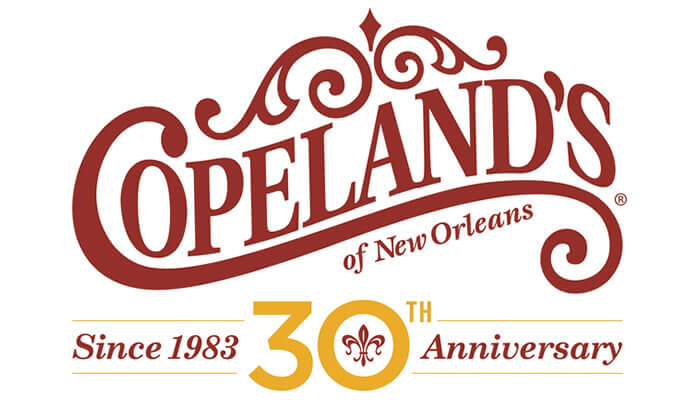 Our staff considers the people at Copeland's our displaced southern relatives. They treat customers with intimate, attentive service, and take pride in every aspect of their restaurant. At Copeland's they're committed to the concept that every dish and meal is true to the culinary traditions and heritage of New Orleans Prepare for the finest dining experience imaginable every time you visit Copeland's. Indulge in the meticulously prepared seafood, steaks, desserts, and delectable wine. To view Copeland's impressive menu, visit copelandsofneworleans.com.
Attractions
The National Aquarium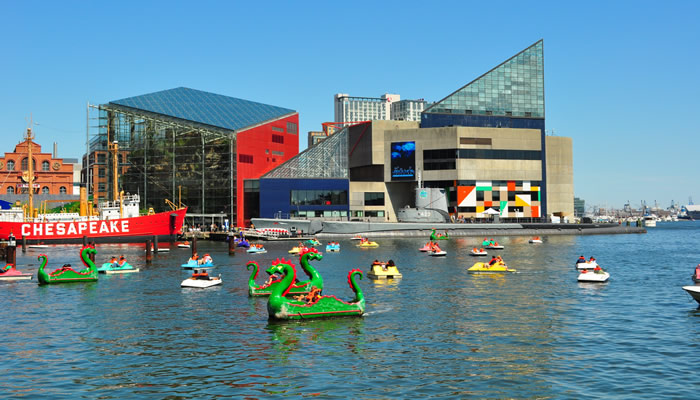 Visiting the National Aquarium in Baltimore is always an extraordinary experience. It's definitely a staff favorite. With over 750 species and more than 17,000 animals in 2 million gallons of water, you will never run out of things to look at. As a non-profit, public aquarium, it's an easy trip. The aquarium is conveniently located downtown adjacent to the harbor, which makes it easily accessible. To learn more about information about the species represented at the Baltimore Aquarium and to plan your trip, visit aqua.org.
Walter's Art Museum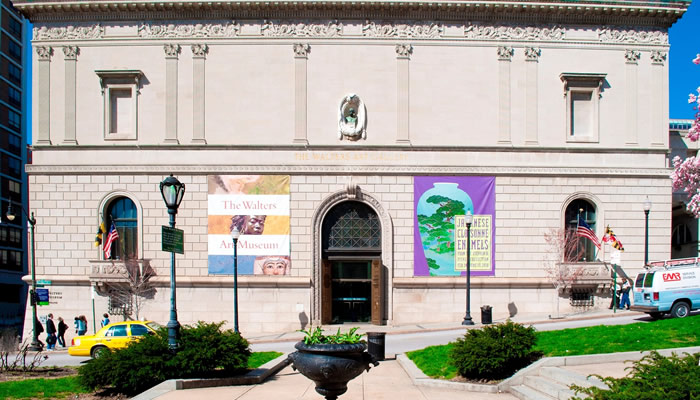 Take a cultural trip around the world without ever having to leave the city of Baltimore. With an art collection that presents an overview of world art, Walter's Art Museum allows visitors to experience unbelievable works of art from a myriad of time periods and cultures. You'll find a diverse variety of works at Walter's, which exhibits everything from Greek sculptures to Roman sarcophagi to medieval ivories and Old Master Paintings. To learn more about what Walter's Art Museum offers visitors and to plan your trip, visit thewalters.org.
Six Flags America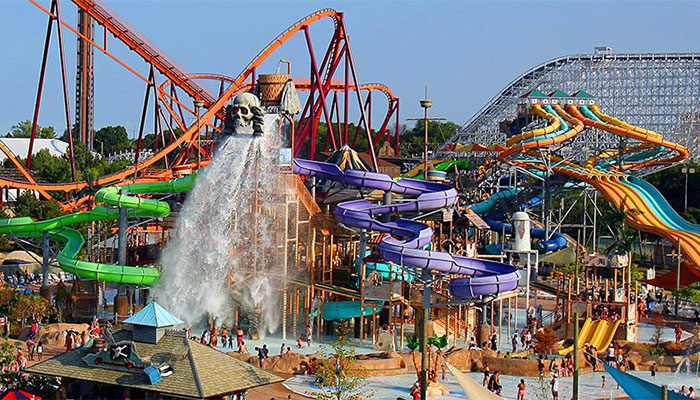 While you're visiting Baltimore for plastic surgery, make sure to visit the fun capital of the United States, also known as Six Flags America. Spanning over 523 acres with 54 rides, and more being built, comfortable walking shoes are a must at Six Flags America. Whether you're too short, too young, or just don't like hurling to insane heights at insane speeds, there's a huge variety of rides for everyone. To learn more about the rides and to purchase tickets visit sixflags.com.